Halloween is a big deal at my house. Not only is it one of my kids favorite holidays, for obvious reasons, we also have a birthday near Halloween so we try to go all out. One of the cutest and easiest ways to decorate for Halloween are these darling yarn candy corn decorations.
This easy craft will only take about 30 minutes, cost less than $20 and only involves 3 items:
To start the wrapping of the cones hold the yarn on the cone with a finger and wrap the yarn a few times to secure the bottom in place. The second time I made this craft I added a dab of hot glue to the bottom of the cone for the start of the yarn. It made it really easy as I didn't have to be careful with wrapping since it was secure.
Repeat this with each layer of color. To begin a new color add a dab of glue to the beginning of the new color and end of the previous color to start and stop that transition. This picture gives you a good idea of what I mean.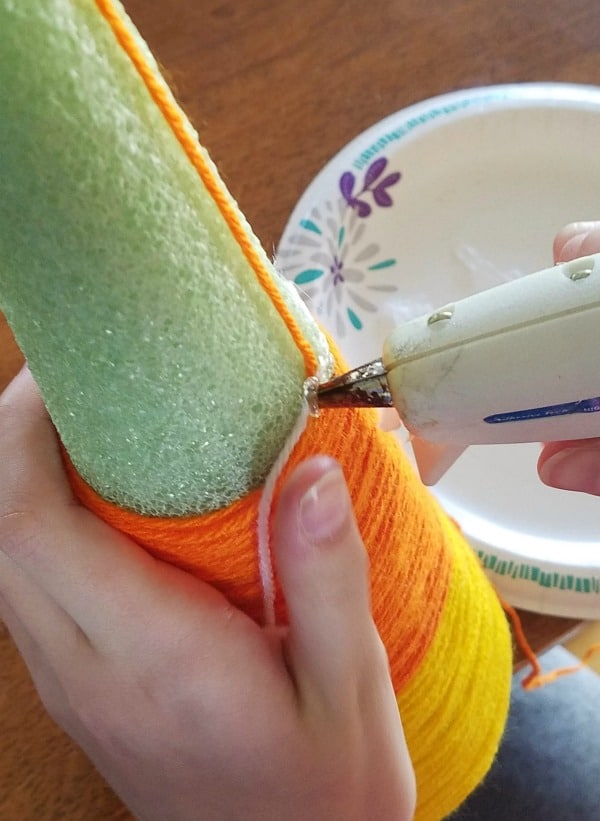 Once you get to the top of the cone you can complete the craft in several ways: use a pencil and poke the end into the cone, use a dab of hot glue to finish off the yarn, or cover the top of the cone in glue and swirl the white all over the top as well.  You can also just paint the top bit of the foam white to make it look complete. I figure this decoration is for the people looking from the side, so I never finish off the top, but you want to go for it.
This craft is pretty straight forward and easy. I did attempt, in the beginning, to paint the cone with mod podge  but decided it was too messy and not necessary.
Pin It for later