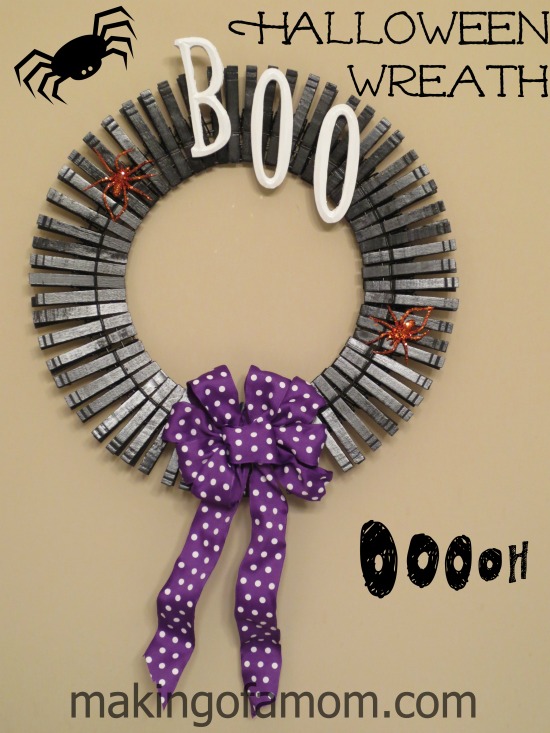 As I was searching pinterest looking for a cute but easy Halloween wreath I found this darling wreath at  The Thrifty Things. Get ready for an easy Halloween craft! If your door is naked, then it is time to make this easy wreath! You only need a few items:
Medium Wire Wreath
Clothes Pins (About 70 per wreath)
Black Spray Paint
White Spray Paint
'BOO' Letters
Ribbon
Sparkly Spiders
Hot Glue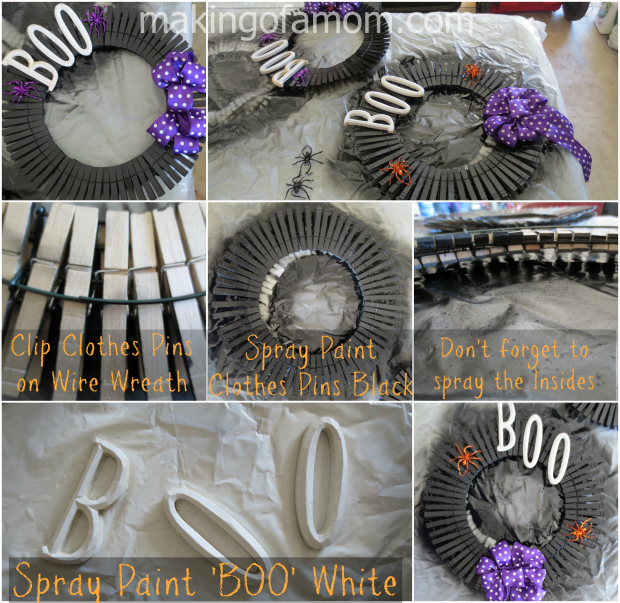 First clip the clothes pin onto the wire wreath. The clothes pins will only fit over 2 of the 3 wires that make up the wreath so clip them on the inside two. Once the wreath is filled with the clothes pins spray paint them black. You will need to make sure you get the insides and outsides. Check in all different directions to get it completely covered. Once that is finished spray paint your 'BOO' letters white. I let all my paint dry over night. While the paint was drying I consulted several youtube videos on how to make a cute bow. I still didn't master it, but made one that was good enough for me! When I came back to my wreath the next day everything was dry and ready to glue! I laid everything on the wreath the way I wanted it to look and then started gluing.I first glued on the bow so I had my middle set. Then I glued on the 'BOO' letters. I thought it would be cute to have them stair step down. Lastly I glued on my orange sparkly spiders. My friend made a wreath with me and she used purple spiders to match our ribbon. The only thing that mades this craft last longer than 30 minutes is the drying of the paint, but it is super easy and cheap.
Happy Halloween!