I have teamed up with Walmart to discussed their Top 20 Holiday Toy list. Even though product and compensation was received, all opinions are completely my own.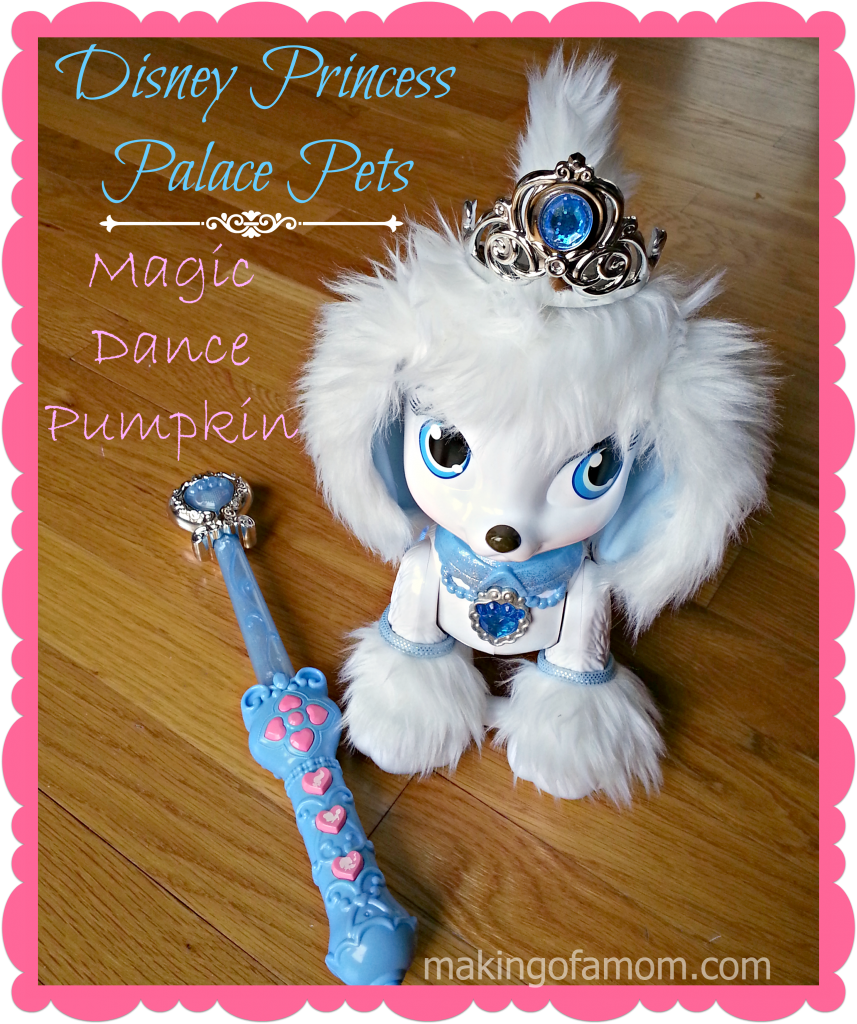 When it comes to clothes, backpacks, accessories, school supplies and any other non-toy item, I do not purchase licensed (movie characters) things. When it comes to toys, however, my kids love certain movies and shows and so of course they want the toys and I allow it.
Disney Princess Palace Pets are one of these licensed toys that my daughter is so excited to have. She love Cinderella so much and Magic Dance Pumpkin, is her puppy.
Cinderella's pet, the Disney Princess Puppy Palace Pets Magic Dance Pumpkin comes to life and now it can be any little princess' favorite new pet. It is an adorable and interactive toy. Children can play with it and control it using the remote controller, which is in the shape of a light-up magic wand. The little pup can speak over a dozen phrases and sounds, follow movement commands and perform two pre-programmed dance sequences. This Disney princess pet has soft fabric ears, removable fur cuffs, stylish satin tutu and bow, over-sized plush tail and an elegant glittering tiara. There is no doubt this is one royal pooch. This toy requires four AA and two AAA batteries to operate, which have been included for convenience.
Of course you wouldn't recognize Magic Dance Pumpkin from the movie Cinderella, but there is a whole series of Palace Pets that correspond with all of your favorite Disney Princesses.
Magic Dance Pumpkin was voted one of Walmart's Chosen By Kids Top 20 Holiday Toys.  Most girls, and some boys, love the Disney Princesses and so it figures that these lovable pets would make the list.
What is special about Magic Dance Pumpkin?
Magic Dance Pumpkin is a very "cool" toy. It dances, talks and can be controlled with its wand. Basically a remote-controlled dog, this toy has been so popular at my house.
With a light up wand as the controller, you can make the dog go forward, backwards and side to side. The dog will also dance if you push a different button. It is so much fun that I have enjoyed my time playing with the toy while my kids are at school. Check out this instagram video I made of the toy:
Are there other movies or shows your kids love? Walmart has a nice selection of licensed toys at various price points to fit any budget. Do your kids love Teenage Mutant Ninja Turtles, Doc McStuffins, Frozen or Rescue Bots? Walmart has them all at various price points that work for you.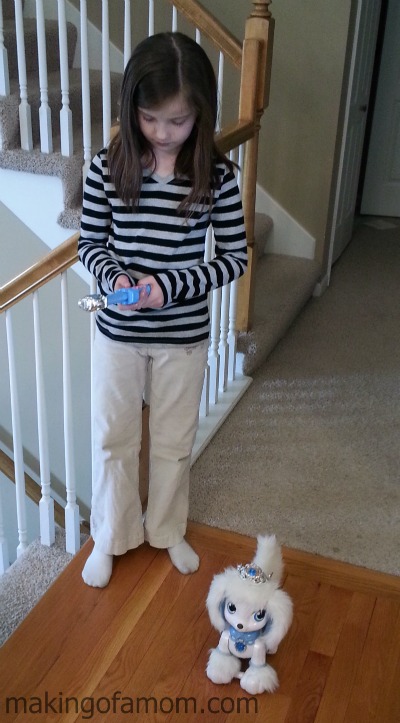 This holiday season when your purchasing is probably at its highest, Walmart wants to help you save money and be able to get everything you are hoping for. They have set up several programs to help you achieve this!
Savings Catcher App – This free app enables you to scan every Walmart receipt and have Walmart do the work checking local competitors for lower prices. If they find something you are credited the difference. You can "cash out" your savings into a Walmart gift card!
Walmart Ad Match Guarantee – Don't run around town shopping trying to score the best deals. Bring your ads to Walmart and they will match the prices. One stop deal shopping! Plus, after you have price matched, use the Savings Catcher App to make sure you got every single deal possible! Walmart has your back!
Layaway – Walmart has a great away program. Plan for a nice Christmas by taking advantage of layaway and pay at your own pace. Price matching also works on layaway items!
Do you have a plan for your holiday shopping? How will you be scoring the best deals?