This post contains Amazon affiliate links. I will receive a small portion of the sale if you purchase.
Christmas is right around the corner and there are so many fun and creative projects you can do with the kids to decorate your home.
I saw this DIY Eucalyptus Garland – Awesome Greenery project which made me want to make something for our mantle, but since I did not have any eucalyptus, I decided to make some adorable Felt Christmas Trees to make a garland out of to hang from our mantle.
Nothing says Christmas like a decorated mantle and best of all there is no sewing required for this project.  This is perfect for little kids to help out and the entire project took about 20 minutes from start to finish.  How awesome is that?
Supplies Needed:
Dark Green Felt
Light Green Felt
String/Twine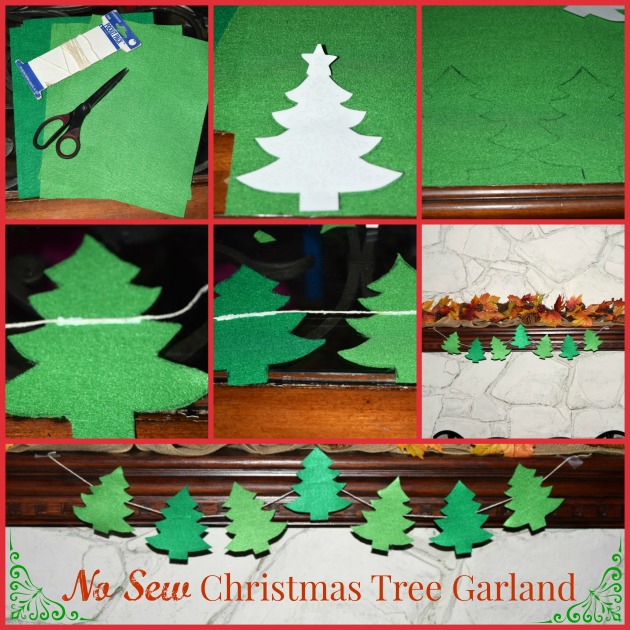 Tutorial:
I went online and found a Christmas tree that would be easy to trace on my felt and I printed it out.  Once it was printed out I cut the shape out and laid it flat down on my felt and started tracing with a black pen.  I was able to fit 4 Christmas Trees on each piece of felt for a total of 8 Christmas trees for this project.
Once you have finished tracing take a sharp pair of scissors and cut your Christmas tree shapes out and set aside.
Once all trees are cut out flip them over so the pen markings are down and lay them out in a row.  I took my quick dry glue and placed a thick line on the upper back of each tree and laid my twine across them holding down for a few seconds to make sure they stuck.
Once they were dry I hung up on the mantle and I must admit it turned out pretty cute.  This was such an easy project and I know you'll have so much fun making it.  Thanks for following along.