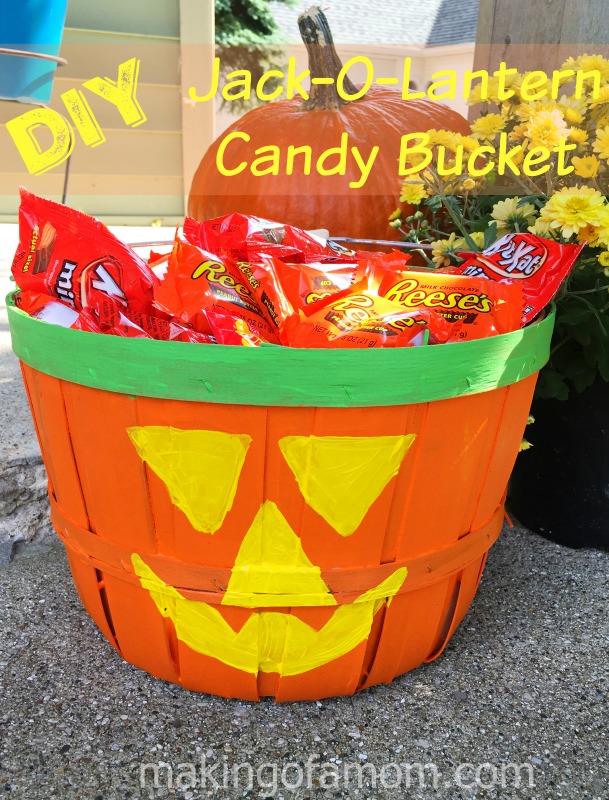 Every year when Halloween starts coming around I start thinking about what our plans will be. It's always an internal battle for me. On one hand I want to go around with my family and see my kids enjoying Halloween. I want to see them trick-or-treat and enjoying their childhood. Being able to trick-or-treat only lasts a few short years so I want to see it. BUT on the other hand it's always really cold and so staying home passing out candy doesn't seem like a bad idea either. Plus, since we are benefitting from our nice neighbors handing out candy I feel like we also need to contribute the candy our neighbors are receiving.
Each year I end up going trick-or-treating and we set out a bucket of candy on our porch. I'm not a big fan of this because who knows how long the bucket lasts and if everyone just takes a couple pieces or if the first kid to come along dumps the bucket and that's that. Anyways, here we go with the internal battle today, but I have this darling craft to help make up my mind to leaving candy on the porch and joining my family on the candy trek.
DIY Jack-O-Lantern Candy Bucket
Supplies:
Apples bushel basket
Orange, green, and yellow multi surface craft paint
(2) Foam paint brush
Small flat tipped paint brush
Paper plate
Candy for trick-or-treaters
Directions:
1. Lay an old newspaper down before you begin
2. Squirt a tablespoon sized amount of each color paint onto your paper plate
3. Use a foam paint brush to paint the bottom half of your basket orange and let dry
4. Now use another foam paint brush to paint the top rim green and let dry
5. Then you can get creative and paint a Jack-o-lantern face onto the front of your basket, get creative your face can look silly or spooky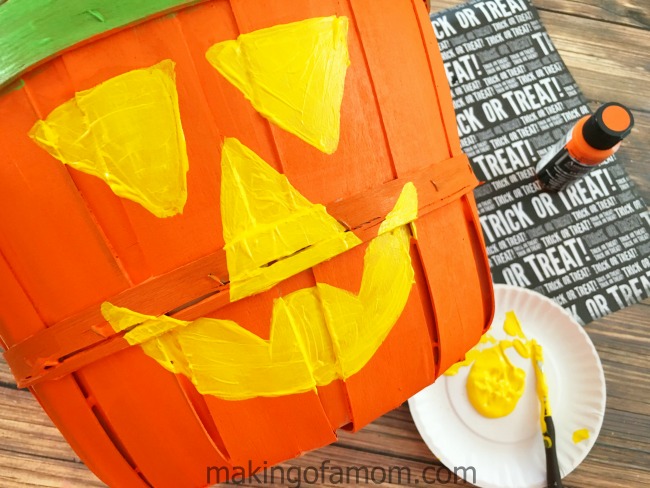 6. Once your basket is dry, it's ready to be filled with candy to hand out to the trick-or-treaters
Isn't this so cute? Even if you don't leave it on your porch, it would be a cute bucket to take to the door when you hand out candy. I think it's adorable. It's a cheap craft that can be used year after year.