Remember back when I went to the Muppets Most Wanted premiere? Well I also got an early look at Disneynature BEARS. Take a look at my original review of Disneynature BEARS. I love this movie so much. It's funny, sweet, tense and sentimental. I laughed, cried and was worried. I think that Sky, the mama bear and I have a lot in common. We both want to make sure our kids are safe, healthy and protected.
An epic story of breathtaking scale, this heartwarming and visually spectacular film showcases a year in the life of a bear family as two impressionable young cubs are taught life's most important lessons.
On August 12 Disneynature BEARS is being released on Blu-ray Combo pack, Digital HD, Disney Movies Anywhere and On Demand. For every purchase of this film through August 19th a donation through the Disney Worldwide Conservation Fund to the National Park Foundation, the official charity of America's national parks,to further protect and conserve endangered or threatened wildlife and wild places as well as enhance field research across more than 2.9 million acres of National Park Service land.
The Blu-ray Combo Pack features some incredible movie extras including:
Welcome To Alaska – Journey with the filmmakers into the Alaskan wilds to film Sky and her cubs.

The Future For The Bears – Experience the thrill of living with the bears during production, and the importance of protecting the wilderness to ensure their survival…and our own.

A Guide To Living With Bears – Learn how the team interacts safely with these magnificent creatures.

How Did They Film That? – Get an inside look on some of the extreme filmmaking that went into getting shots high in the mountains and under frigid cold water.

"Carry On" Music Video By Olivia Holt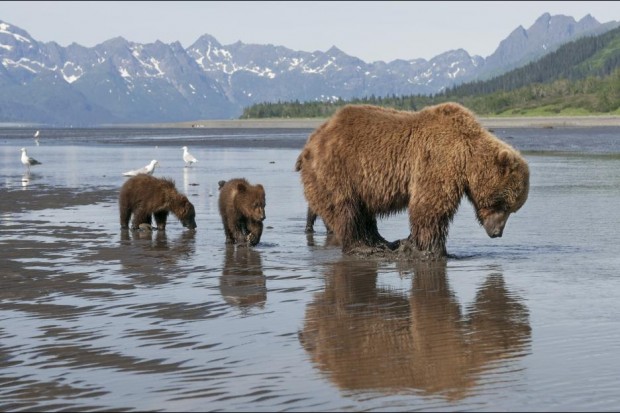 Website: http://disney.com/bears
Facebook page @ Facebook.com/Disneynature
Twitter @ Twitter.com/Disneynature
 Tumblr @ Disneynature.tumblr.com;
Pinterest @ Pinterest.com/disneystudios/disneynature;
Instagram @ Instagram.com/disneystudios