Disclosure: I received free product samples for review purposes. All experiences and opinions are my own. Yours may differ.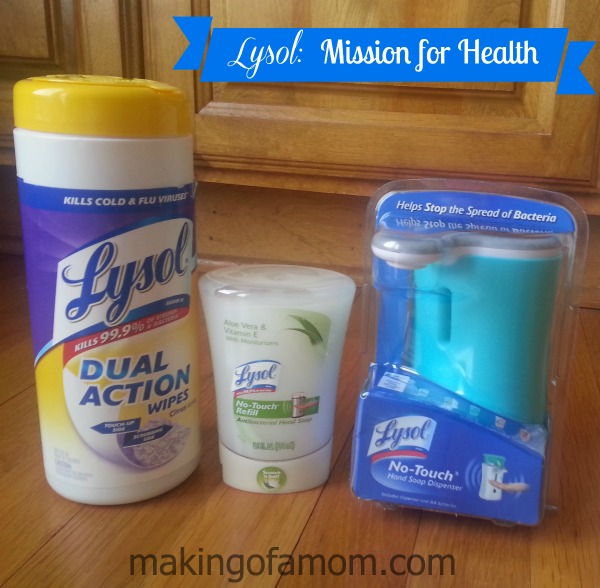 Cold and Flu season is here! It has been hitting my house hard and long. We have all been sick basically for two months. We are starting to come out of it so you can bet my whole home is getting the Lysol treatment on a daily basis to ensure that we will stay healthy!
Lysol has some really great products to help kill germs that I didn't even know existed. For example these Dual Action Wipes that have two sides that go beyond ordinary wipes. One side  has built in fibers for scrubbing and extra cleaning, the other is meant for touch up cleaning. It is my son's job to disinfect the doorknobs in the house. He enjoyed using our new wipes as he went from door to door. He kept switching between sides.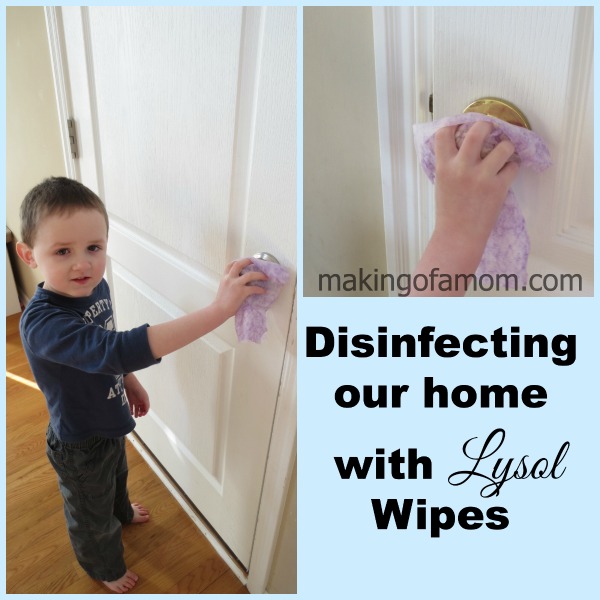 We always have Lysol Disinfecting wipes on hand, even in our car. You never know when disgusting, germ filled situations will arise and so we like to be prepared! We trust Lysol most with our disinfecting needs.
Lysol wipes kill 99.9% of viruses and bacteria, including Influenza A virus (H1N1), Human Coronavirus, Staphylococcus aureus, Salmonella enteric, E. coli and Herpes Simplex Virus Type 1. WOW, that is a lot of nasty diseases we can wipe away with Lysol. It also shows how important disinfecting is to the health of our families.
The other awesome product Lysol sent me, that I didn't previously know about, is this No Touch Soap Dispenser along with Lysol No Touch Anti-Bacterial hand soap. I LOVE this machine! There are times when I'm working in the kitchen with raw meat or some other nasty item and I HATE to go touch the top of the soap pump. That must be the dirtiest place in our kitchen – though I would wash it! lol I LOVE not having to touch any part of this pump to get any soap. With a quick wave of my hand the perfect amount dispenses and I can watch my hands without having the grossness touch anything! LOVE.LOVE.LOVE. I think I will be buying several more for the bathrooms in our house as well.
Cold and Flu season hits its peak in February so make sure you are armed with all the different Lysol products so that all the surfaces of your house are covered. Disinfecting is really easy with Lysol. Lysol has some suggestions for surface disinfection:
When someone is infected with the cold & flu, the virus can live on surfaces for up to 48 hours, meaning the infection can be transferred to someone else days after initial contact. The CDC recommends routinely cleaning and disinfecting commonly touched surface areas at home and work to prevent the transmission of the cold & flu virus.
The Global Hygiene Council recommends using disposable wipes (such as Lysol Disinfecting Wipes) to frequently remove viruses and bacteria from commonly touched hard surfaces, such as kitchen worktops, taps, toilet seat and flush handles, doors and fridge handles, light switches, telephone hand pieces, etc.
Stay healthy this cold and flu season by killing the germs with Lysol. We have been armed with a great product now all we have to do is get wiping!