I am always up for a fun project- especially one that is fun, simple and quick!  I had one of these mini wooden crates lying around and thought I would make a little pumpkin/candy dish out of it.  Heres what you need.  A wooden crate– any size would do.  In fact a large one could be made into a pumpkin with its bottom on the surface and using a side or both sides as the pumpkin.  Since I had a small one I decided to use it on its side instead of its base.  I have seen these for really cheap (especially with coupons) at Michaels and A.C. Moore. You will need some type of chalkboard paint– I used rustoleum.  Choose your brush– I like the foam brushes and thats what I had so I used it.  The colorful piece under my supplies is a piece of cardboard that I have used for lots of other projects!  Also choose the type of chalk you want to use but you don't need it quite yet!
Then paint away.  Make sure you stir your paint and cover all sides inside and out.  Let it dry!
When you are done if you just like the chalk black look you can leave it and choose a stick from outside to place on top.  Since I was using mine as a candy dish as well I didn't secure it but you could glue it if you wanted to.  If you are planning on using it as a chalk surface you need to prep it.  In order to do this you need to turn the chalk on its side and rub it on every surface.  Once you have done this you can wipe it off with a towel.  That will give it a dusty chalkboard look.
Here is my candy dish when I put it on its base and remove the stem.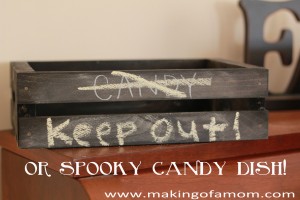 Here is another option for you- I was considering painting the crate orange and using black vinyl for the features (something like this below) or staining it and using black vinyl as well.  All three options are pretty classy so give yours a whirl!