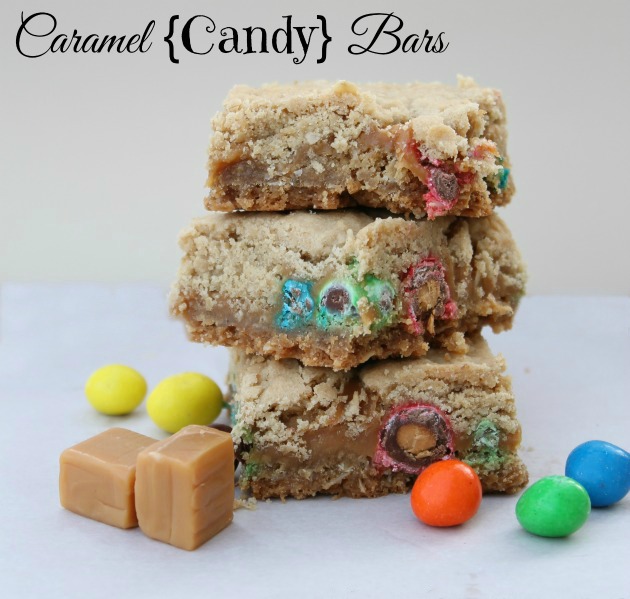 I am a huge caramel lover. The more gooey and sticky the better. Caramel Candy Bars are some of my family's favorite treats! They are pretty easy to make, don't involve any hard steps and they are really impressive when shared with friends. They are perfect for celebrating any holiday or occasion because you can use the holiday color themed M&M's and your set!
Caramel Candy Bars
Soft and gooey cookie bars.
Base and Topping Ingredients:
1 1/2 cups firmly packed brown sugar
1 1/2 cups butter, softened
1 cup oats
1 cup Rice Krispies
2 cups flour
1 tsp baking soda
1/2 tsp salt
Filling Ingredients:
35 vanilla caramels, unwrapped
1/3 cup milk
1 package M&M's
Instructions:
1. Heat oven to 350°. Spray 9×13 pan with cooking spray.
2. In a large bowl combine brown sugar and butter. Beat until smooth.
3. Stir in oats and cereal.
4. Add flour, baking soda and salt; mix until well blended.
5. Reserve 3 cups oat mixture for topping.
6. Press remaining mixture in bottom of sprayed pan. Bake for 10 minutes.
7. Meanwhile, in a small sauce pan, combine caramels and milk; heat over medium low heat until caramels are melted and mixture is smooth, stirring constantly.
8. Remove partially baked base from oven.
9. Sprinkle with 1 cup of M&M's.
10. Drizzle with caramel mixture, being careful not to let caramel touch sides of pan.
11. Drop reserved oat mixture by heaping teaspoons over caramel mixture.
12. Sprinkle remaining M&M's.
13. Return to oven; bake additional 20-24 minutes or until center is set up and top is golden brown. Cool completely. Cut into bars.