This shop has been compensated by Collective Bias, Inc. and its advertiser. All opinions are mine alone. #SummerCarCare #CollectiveBias
A month before we got married my husband's parents and my parents presented us with a very generous wedding present: a car! This car was purchased used and came with an awesome car maintenance log in a  notebook from the previous owners. We have kept up our habit of tracking our car maintenance, repairs and purchases and wanted to share our method in case you would also like to track your car data.
I have found with the day to day of life, kids, work, friends and everything else, I don't always accurately remember when we got new tires, when we had an oil change or when we changed the air filter. The car maintenance log is an easy and convenient way to track these things and help you keep a schedule for suggested maintenance.
Feel free to
print this free version
of our car maintenance log. Print out several copies so you'll be good to go for a while. Put it in a binder. Behind the log, keep a sheet protector for the receipts you want to keep. Often times when you get work done on your car the receipt is a full page, simply punch some holes it in and add them to the binder as well.
My husband and I often say we are "payers not doers" meaning we don't really have the skills to do work on our home or on our car. We pay people to do these things that we cannot do ourselves. Luckily, there is this awesome thing called YouTube and it can teach you how to do some things. My husband has discovered he can fix quite a few things with our car with the help of YouTube. One of the easy fixes is replacing the air filter in our cars. The whole process is so easy from buying to installing.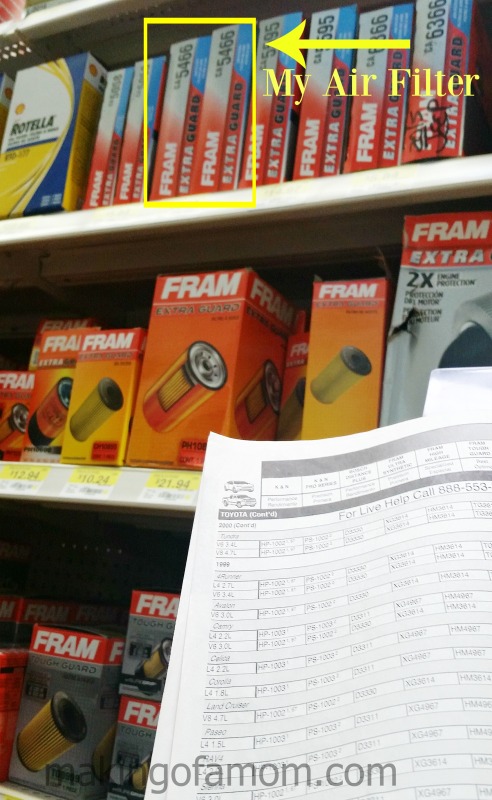 At Walmart there is a huge book full of every make and model of car. Search this book for the car you are buying the air filter for. Once you find the year, make and model, the book will let you know
which filter to purchase
. For our 1999 Toyota Corolla (yup, our car is old and still kicking, probably thanks to our scheduled maintenance!) we need a
FRAM 5466 filter
. Air filters are the engines first line of defense and increase overall engine performance, so we make sure to change these on a recommended schedule.
There are tons of filters to choose from. It was easy to grab the one I needed. In my Walmart, the air filters are on the very first aisle outside of the Car Center and there are tons of
FRAM air filters
to choose from.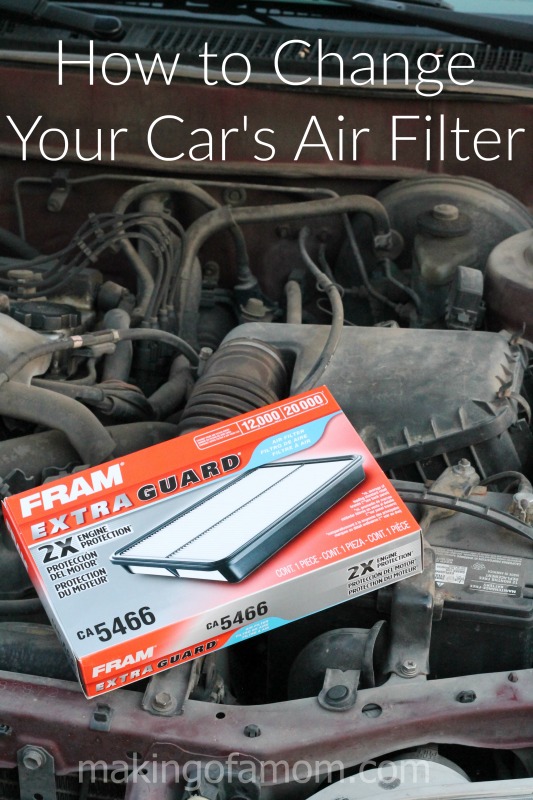 Replacing this filter in the Corolla is so easy.
First, put the car hood up.
Find the filter housing.
Unclip the two clips.
Remove the dirty filter and replace it with the clean filter.
Re-clip the clips to secure the filter.
DONE!

It was so simple it is installed in 5 minutes and I'm confident next time I could do it alone. Now to learn how to do it on my van and I can always replace the air filters! That would be so cool. Now we will put this information in our car maintenance log so we know when it's about time to replace the air filter again. FRAM recommends changing your air filter annually or every 12,000 miles, however, you should follow recommended change intervals as noted in your vehicle owner's manual.
So there you have it, you can now change your own air filter in your car and keep track of all your car's maintenance, repairs and replacement parts.
Can you do any car maintenance yourself? Tell me what you know how to do, I'd love to know!