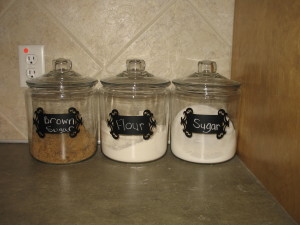 I hate when you go to make cookies and you have to shove your arm into a bag of flour to get however many cups you need and when you pull our your arm you are covered in flour! I have seen other people with cute canisters full of ingredients so I wanted some to. I got these cute
canisters from Walmart. I bought some chalk board vinyl through one of Pick Your Plum's daily deals (Expressions Vinyl has the LOWEST prices on vinyl ANYWHERE!! It is amazing! and the selection incredible!!) and my friend cut out a cute label shape with her Cricut. I put the label on the canisters and then wrote the label with chalk. I should have written it first and then put it on the canister because it was hard to write once I put the label on. Anyway, I need one more for powdered sugar but so far here are my three baking canisters. I love my cute baking corner!
Now here is the important part! If you are going to put brown sugar into a canister it is important, no… VITAL, that you use a brown sugar bear. He is very cheap on amazon.com so there is no excuse to not get one! Once you get your brown sugar bear, you soak him in water for a little while, then dry him, and stick him in your brown sugar. He will keep your brown sugar soft and moist and from going hard. I don't know how he does it, but he does! I have had him in some brown sugar for MONTHS and that stuff remains soft and nice. (I obviously don't use brown sugar too much!) I love my brown sugar bear!