Disclosure: My family had a complimentary ceramics class in exchange for promoting the expansion of Breckenridge Arts District. All experiences and opinions are my own. Yours may differ.
Visiting Breckenridge, Colorado is a family tradition. Every other year my family has family reunions. The locations differ at times, but more often than not we find ourselves in Vail, Colorado, just 45 minutes West of Breckenridge. Visiting the ski towns of Colorado in the summer is so much fun. They all have great shopping, adventurous outdoor activities and fun attractions.
This year when we visited Breckenridge my family got a special treat. We were able to visit the expanding Arts District and do a ceramics project in the ceramics studio (which seems to be the only building not under construction in the district, lucky us!)
This is a mock-up drawing of what the final results will be of the Art District. With plazas, walk ways, sculptures suitable for playing children, indoor/outdoor classrooms and buildings filled with different art styles and mediums. The art district will become a family friendly place to stop. The district will offer classes and projects for family members including children. Right now you wouldn't find my family in an art district because it usually means expensive pieces and not child friendly. Breckenridge wants to break that mold and offer classes for children and make this a welcoming place. This is a great way to expose children to new experiences and to see what they enjoy and excel at. I love this new plan.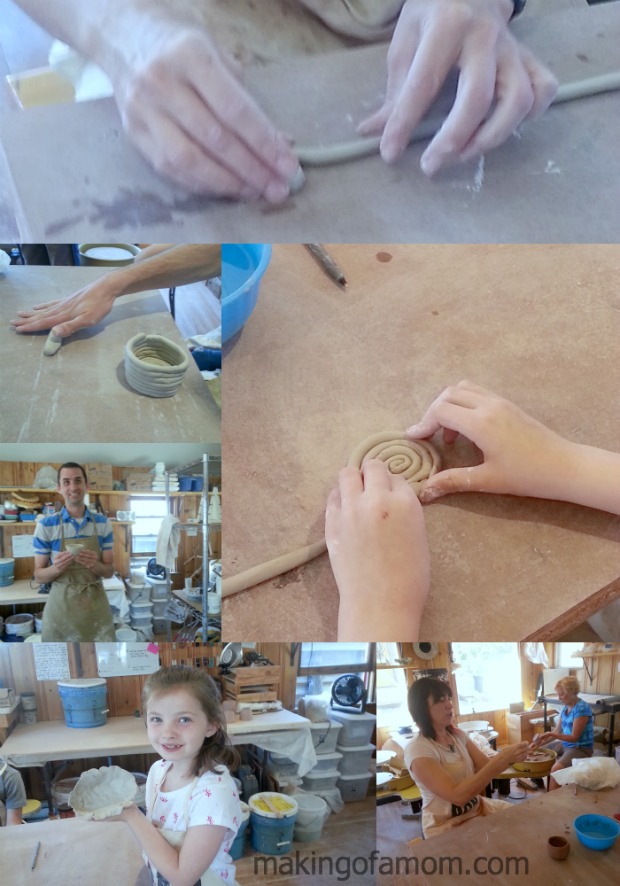 My family was lucky to meet with Jenn Cram. She is the manger of the Breckenridge Arts District and Public Art program. She gave us a little class on working with clay. We made pinch bowls where you take a piece of clay, work it in your hands and then pinch it into a bowl. I have never worked with clay before in my life so it was really fun to discover something new. My daughter loves art and so I was very happy for her to have this experience. My hubby is good at basically everything, so his projects were perfect. My son had just gotten his cast on from having broken two bones in his hand so he wasn't in the mood to participate and my baby was too little.
The pinch bowls were easy to make. The second project was coil cups. I decided to be on baby duty and photography duty, so I observed as the rest of my family made them.
Jenn was a great teacher. She taught my family how to make the coils, how to use different tools to smooth the clay and scratch it up to make a little clay glue so the different layers would stick together. We learned some fun techniques and tricks. My daughter will be extra prepared for her art class this school year.
Check out our semi-finished products. We left our items there to dry and be fired. The new arts district is set up open in September 2014. If you are planning a fall, winter or even future trip to Breckenridge make sure you schedule this into your plans.  The website has all the information you need to plan your visit and time it with a project you are interested in working on. I can't wait to return to Breckenridge and see the finished Arts District.