This post is sponsored by Hiland Dairy but the content and opinions expressed here are my own.
Don't think I'm over here always making a big fancy breakfasts for my family, because I'm definitely not, but as we enter the holiday season big breakfasts are happening more often. When my kids have days off from school for Thanksgiving Break and Christmas Break and my husband has some work off as well, those days turn into big meal days. Some of my favorite big breakfast meals include using Hiland Dairy milk.
These recipes are pretty simple and super delicious so I'm excited to share them with you today. First up, homemade Caramel Syrup to go with your French Toast. Make French Toast your favorite way. I like to add a splash of vanilla and cinnamon to the eggs.
Caramel Syrup
1/2 cup butter
1 cup white sugar
2 TBS light corn syrup
1/2 Hiland Dairy Buttermilk
Cook those ingredients in a saucepan until boiling. Then add:
1/2 tsp. baking soda
1 tsp. vanilla
The syrup will get really frothy and rise. Once it stops rising pour it into your desired container.
If you want something a little more savory, biscuits with sausage gravy will hit the spot. This is one of my all time favorite meals, no matter if it's breakfast or dinner. I usually make biscuits from a tube, but if you have a homemade biscuit recipe you like more power to you.
Sausage Gravy
1 package of sausage (about 10 ounces)
1/4 cup flour
2 1/2 cups Hiland Dairy Milk (we use whole milk)
Salt
Pepper
Brown the sausage in a frying pan on the stove. Once the meat is fully cooked sprinkle the flour over the sausage. Stir in the flour with the sausage until it's completely combined. Pour in milk. Cook until mixture comes to a boil and thickens, stirring constantly. Sprinkle salt and pepper to taste. I usually don't add any because the sausage flavor does a great job on it's own. Serve over warm biscuits.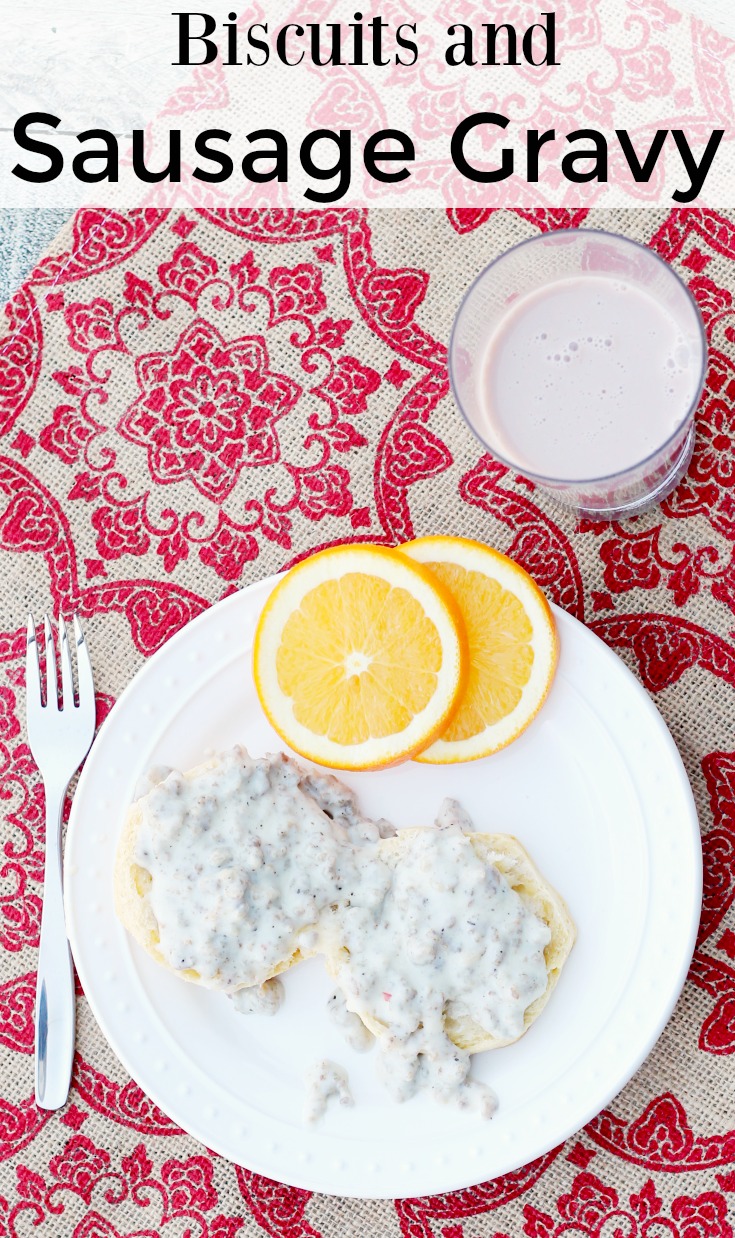 So usually I will make one or the other recipe, not both at the same time, but we decided to have a special family weekend and we went all out! We added some bacon, some of our favorite fruits, pumpkin spice donuts, some individual Hiland Dairy Chocolate Milks, and we had a really fun brunch as a family. The kids helped me cook and set the table and it was definitely a memorable meal that my kids will remember for a while.
Giveaway
I'm really excited to tell you that Hiland Dairy is giving away a free year worth of dairy products to one lucky winner! Click here to enter for your chance to win! Go win and bake 'til your heart's content!