Thanks to BloomsyBox for sponsoring this discussion. All opinions are my own. Your experience may differ.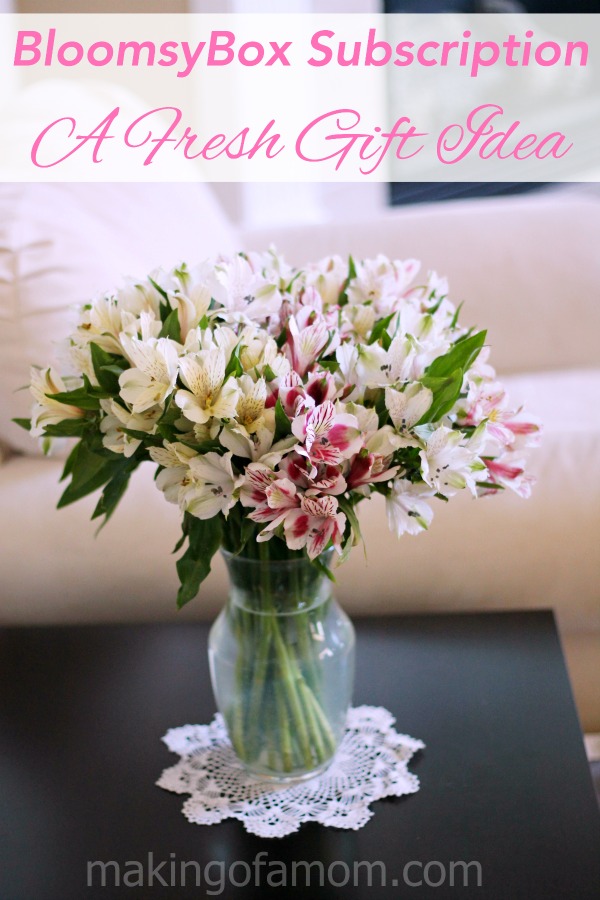 With the holidays approaching I find myself trying to think outside of the box for gift ideas for friends and family members. I know I would prefer to not receive gifts that add to the clutter of my house, I would rather have experiences or happy moments. Incredibly, as I have been thinking about gifts
BloomsyBox
emailed me asking if I would like to try out a subscription box and review it on my my site. I agreed thinking this could be just the unique gift idea I was looking for!
How does BloomsyBox work?
There are three different sizes of subscriptions – small, medium and large. Each bouquet comes in a single variety of flowers without the "extras." The boxes are delivery monthly, but can be suspended when you are out of town or canceled at any time. They range in price from $39.99 to $48.99 a month.
My box arrived on my porch. Inside my flowers were wrapped up, there was flower food and a couple of information cards telling me about my flowers and how to care for them. I love that the flowers came in closed blossoms so that I could watch them bloom.
The reason I really love BloomsyBox, especially during these cold Fall and Winter months, is because of the happiness they bring. It's like a bit of sunshine and warmth in my home during these cold months. Outside plants are dying and going into Winter mode, but inside I have happy fresh flowers that really effect my mood and the mood of those in my home. They are such a happy gift!
I find myself carrying my flowers around with me. When I'm cooking in the kitchen I'll move the vase to my kitchen. When we eat the flowers go on my table. If I'm in the living room I'll put them on a side table. I love seeing them. My toddler who spends all his time with me also has comments several times about how he likes the "happy flowers."
BloomsyBox is a wonderful gift idea. You can add cheer to a loved ones home monthly, while not adding to the clutter. Most people already own a vase they can stick the flowers in and then replace them monthly with the fresh bouquet. Since you control how long your subscription is there isn't any downside. Cancel when you are done. What a fun thing to look forward to each month.