This shop has been compensated by Collective Bias, Inc. and its advertiser. All opinions are mine alone. #Back2SchoolReady #CollectiveBias
As I prepare my children for the new school year I thought I would also gather some items to help their teachers prepare as well. This time of year is filled with pencils, erasers, paper and hand sanitizer but what about some fun treats for the teacher? With Kellogg's Scholastic Free Book Program I thought I would send my kids with some treats and books for their teachers.
Right now on specially marked boxes of Kellogg's items, such as select cereals and snacks you will see a Free Book logo indicating that by purchasing that item you will get a code to redeem for a free Scholastic book. These books can be sent to your own home to build up your personal library or be donated to your school. Free shipping on either option. It's such a great program. Codes must be redeemed by 3/31/2016. 1 box = 1 Free book! You will know it is the right item by looking for this logo:
At my Walmart all the Kellogg's cereals were grouped together on the aisle so it was easy to have my pick of marked boxes. Across the aisle were the Nutri-Grain Bars and Pop-Tarts so I picked up a couple of those too. Along with Rice Krispies Treats I put together a yummy goodie basket for our teachers. I also wanted to donate a couple Scholastic Books for the beginning of the year and introduce this program to our teachers so they could participate and pick their own books. I feel good having helped our teachers grow their classroom libraries.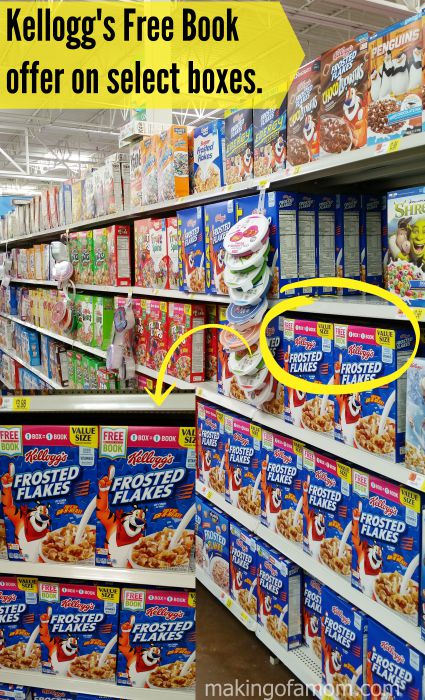 To get started with the Kellogg's Scholastic Free Book program you will need to first
set up a Kellogg's Family Reward account
here
.
There are 3 ways you can upload your receipt, via text, via scanning into your computer or Kellogg's Family Reward app – only when you purchase ONLINE between 7/21 – 9/11.
You can also buy directly on Walmart.com and receive a free book from purchases made between 7/21/15 and 9/11/15. Look for Buy Now button at http://wm6.walmart.com/Kelloggs-Back-to-School.aspx for a list of all eligible items. Ecommerce redemptions are made via receipt scanning. Full details on site above.
If you purchase items in the store, take them home and redeem them online. The 16 digit codes for free books are found inside the boxes. Remember 1 box equals 1 free book, each person can redeem up to 30 books!
You can store up your codes and redeem them at once if you wish, or get the books one at a time. To try the system out for this post I ordered one book. Now that I know what I'm doing I'm storing up a bunch of my codes so I can surprise my kids with a big bundle of books!

Regardless of how you purchase the
Kellogg's Free Scholastic Book
products you have 14 days to redeem the code.  So load up your cart with Kellogg's Free Book items, redeem the codes for free Scholastic books and check out. Once you've checked out your books will be on their way and you will receive an email confirmation.

These free books are wonderful to build up your own library or to donate to your child's school. I couldn't think of a better gift to give my kids' teachers at the beginning of this school year than a basket full of delicious snacks that can also be redeemed for free Scholastic books for their classroom!
To put together a similar gift basket for your teacher:
First have a mini shopping spree for specially marked Kellogg's products.
Once you have your items then you'll know about the size basket you'll need.
Any craft store should have a good variety of baskets to choose from. Pick up some cute ribbon while you are there!
I needed to use some padding in my basket to make the boxes appear at different levels. You can use tissue paper, or brown paper bags to pad the basket as needed.
I happened to have some of the Scholastic books being offered so I threw those in to help with the classroom library.
Tied my pretty bow and the basket is ready!
Be sure to check out more books available via this Kellogg's offer at
http://cbi.as/gfgc
. What is your favorite book offered through the program? #Back2SchoolReady