Thanks to Coupons.com for sponsoring this information. All opinions are my own.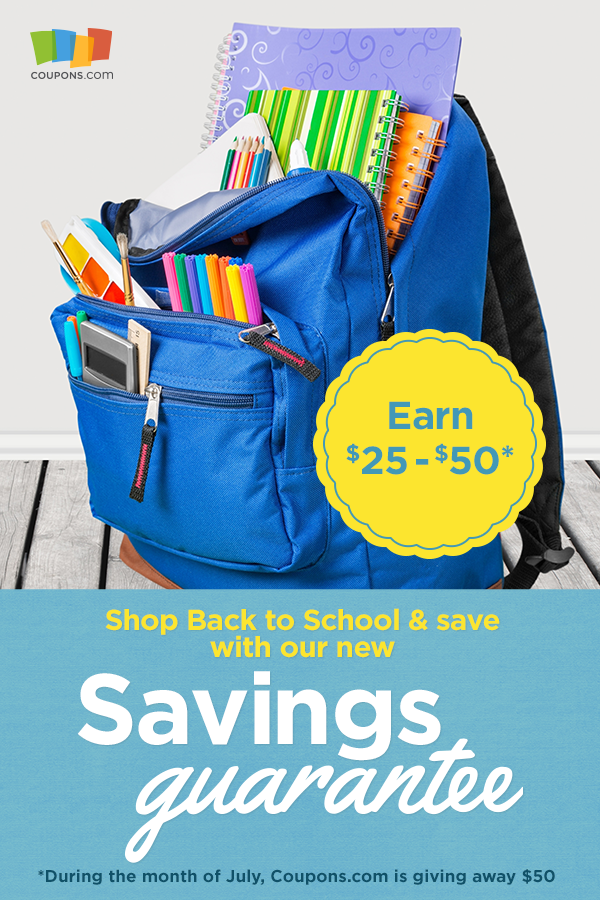 I know it may not always be pleasant to think of back to school duties in the middle of summer, so let's put a positive spin on it ok? It's time to save money and potentially earn an awesome reward from saving money and helping others save money on back to school items! Better, right?
Coupons.com has an awesome rewards program called "Savings Guarantee." With this "Savings Guarantee" you can earn $25 if you find a coupon code that Coupons.com doesn't have in their database. Because Coupons.com is dedicated to helping everyone save as much as possible they want the best coupon codes available. During the month of July if you find an awesome coupon better than what they have in their system you will get a $25 bonus for a total reward of $50! (of course there are  some exceptions)
Coupons.com has an awesome selection of coupons for grocery and in-store items so they are trying extra hard to get shoppers the best savings as we beginning our back to school shopping. I have three kids going to school this year. That's is going to be a large clothing bill so I fully plan on using the Coupons.com data base for all my online shopping needs to help me save money and get the most bang for my buck. I'll also probably do some hunting to see if I can score the
"Savings Guarantee"
  reward by finding a better coupon to get an extra $50 this month.
Since this bonus offer of $50 ends July 31, hurry to find some deals to share. If you don't find them this month, worry not, $25 is available beyond July, which is still an awesome reward for helping Coupons.com and others save more money.
What are you going to be back to school shopping for soon? Do you plan to save money by shopping with Coupons.com? Let's chat saving money!