In October my family took a Caribbean cruise that made several stops to destinations I had yet to visit. My sister, being a former travel agent, knew the activities she wanted to do, so we all tagged along with her plans. I'm so glad we decided to go with her to visit the Lamanai Ruins in Belize.
The Carnival ship we were on didn't offer this excursion because of its distance from Belize City, where it docked. Because of this, we set off on our own with a different tour company and hoped we'd return in time to catch the ship. Some cruise lines do, if you are on a ship that offers the Lamanai Ruins excursion, BOOK IT!
PRO TIP: Cruise passengers must tender to Belize, so be sure to get a #1 so you are first off the ship.
Visiting Lamanai Ruins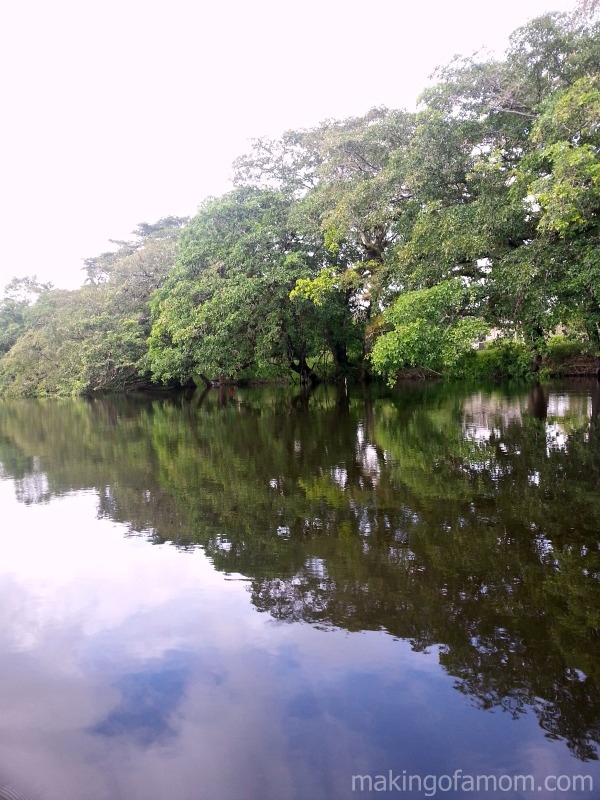 To get to Lamanai (meaning submerged crocodile) Ruins from Belize City you take a bus for an hour until you get to New River. This is a beautiful drive through the country of Belize where you will enjoy see numerous towns and everyday life for Belizians. Here you get on a boat and ride an hour on New River to the ruins. This is a gorgeous boat ride that will include spotting tropical birds, water snakes and crocodiles. It takes two hours to get to/from the ruins.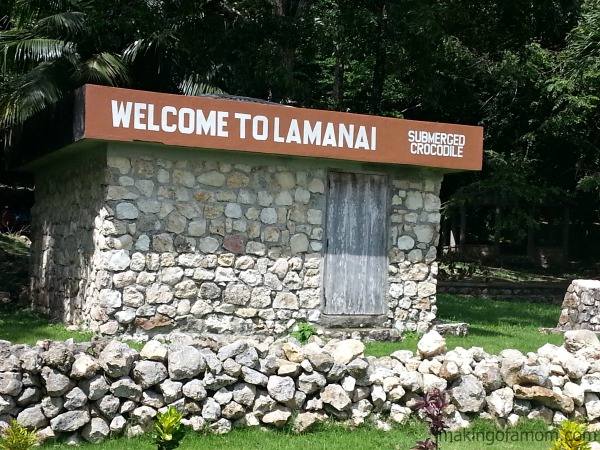 Once you arrive at Lamanai Ruins, there are is a small gift shop, museum and a restroom. Save the gift shop and museum for afterwards in case time is tight. Use the restrooms first and then start your hike.
PRO TIP: You will be hiking through the jungles of Belize. This is a very wet place, so come prepared. Wear shoes you don't mind getting muddy, pack a poncho in case it rains.
Though you will see numerous buildings and temples, most of Lamanai has yet to be excavated. Because we were short on time we skipped the long hike through the jungle to get to the ruins, and went immediately to the first temple – Jaguar Temple. Set in a beautiful grassy field, this temple is a beautiful reminder of a Mayan city of old. It is said that most of the temple is still unexcavated under this grassy field and if it were to be unearthed, it would be significantly higher that "High Temple" (pictured further down).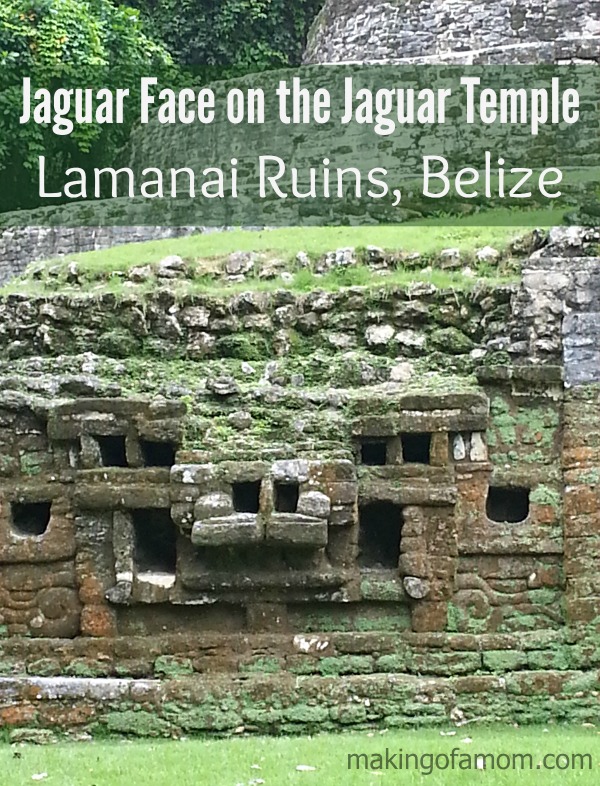 After spending several minutes in awe of this gorgeous temple and reflecting on the history, we made our way through the jungle. On our way to visiting High Temple, we passed several mounds of earth with are really unexcavated ruins. It is said that the vast majority of this Mayan site still remains below the earth.
Though there is a dirt road of sorts winding its way around the ruins, you are still very much in the jungle of Belize. We were there on a beautifully sunny day following a rain storm, so it was muddy, but we were prepared with old shoes.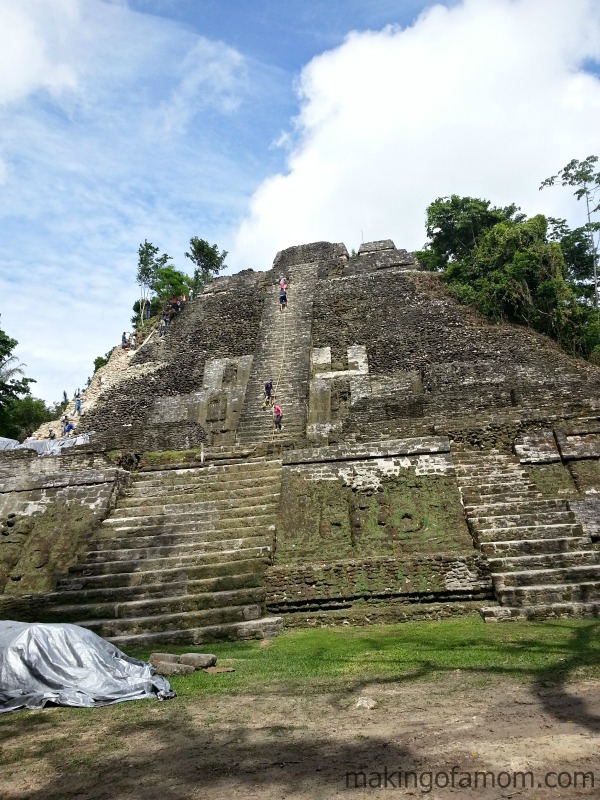 When we first came upon High Temple, it was an amazing site. There are Belizians currently working to restore the temple as parts of it have started to crumble away. This is a temple visitors can climb, so the rope in the middle of the stairs is to hold onto as you climb and decent. Don't be fooled, it was quite the workout and we were sore for a day or two afterwards. The view from the top was amazing. We could see miles of New River and jungle.
Of course when you are by a huge mask carved into a temple you must take a selfie. This mask was so enormous, especially standing next to it that I could basically only get me with the mask's nose and eyes.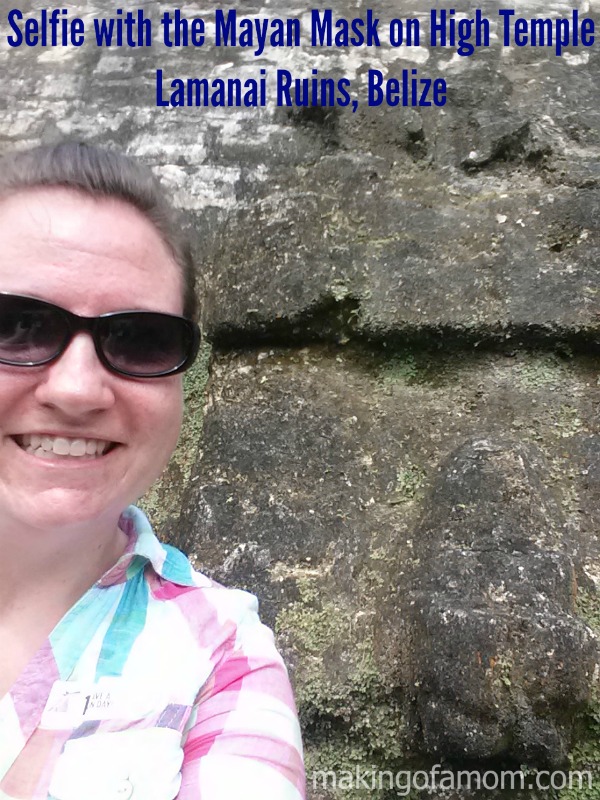 After our tour of the ruins was over (we had the shortened version because the whole thing takes 6 hours and our ship was only socked for 7!) our guide had prepared a wonderful lunch for us. Now I personally am scared of eating food in foreign countries (unless it is in a restaurant, then I feel pretty safe) but I didn't want to be rude so I filled up my plate. Oh.My.Gosh! The food was incredible. The guide's Mother had prepared a wonderful meal for us with chicken, pico de gallo, cilantro rice and fruit. It was so amazing. I'm glad I didn't miss out on that authentic experience!
We then hopped in the boat for our hour ride up New River to get to the bus, which then drove us an hour back into Belize City where we caught our tender back to the cruise ship. It was a long day, but incredible. I recommend that tour to anyone and everyone.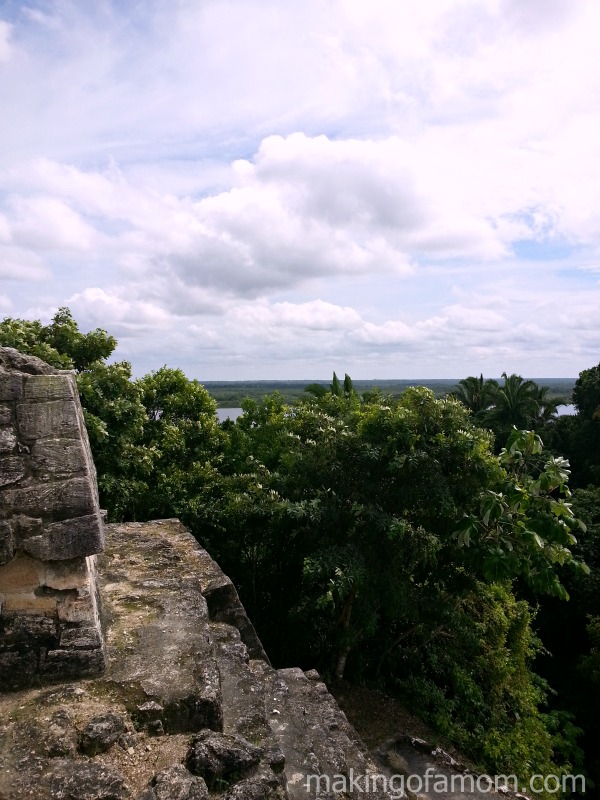 I'm not sure about the cruise lines that offer this excursions, but some of the outside tour companies don't allow children under 6 to take this trip. If you look around though, there are a few that will accept children. We went on this excursion with a 1, 5, and 8-year-old. It was completely fine. We held the 1-year-old the whole time just because we didn't want him to get muddy, and we had snacks for the bus and boat ride, but he did great. He loved looking at the ruins and had fun with family.
Have you been to Belize? Have you ever explore any other ruins? I'd love to get more ruin recommendations!