Disclosure: I was invited on a trip to Branson with the US Family Guide Blogger Network. All experiences and opinions are my own. Yours day differ.
When you think of Branson your first thought may be shows. Branson is known for its entertainment, most commonly – its shows. On the "strip" which is highway 76 and runs through the center of town, there is theater after theater with different shows. There are comedies, acrobatics, musicians, amazing animals, basically anything you can imagine (that is clean and family friendly. This "strip" is very different from the Las Vegas "strip" though it does have tons of lights, just the same).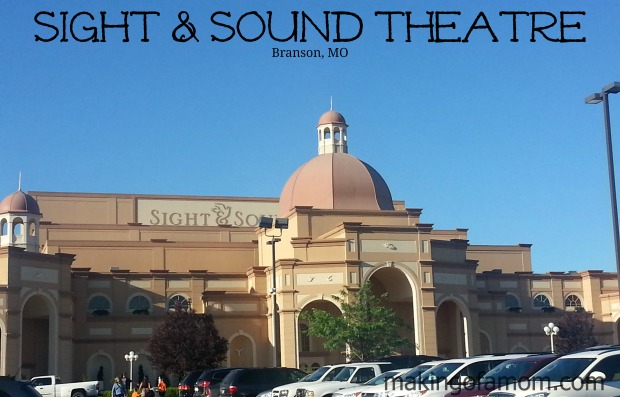 Off of the "strip" and a few miles out on its own is the Sight & Sound Theatre. This beautiful theatre is impressive in itself, not to mention its productions. When we walked through the doors of the theatre the beauty just took my breath away. I was amazed from the beginning. What a beautiful venue to house such wonderful shows. The Sight & Sound Theatre is known for bringing the Bible to life through musicals. We were treated to Jonah – the story of a Prophet of God who was called on a mission to Nineva, a city full of sin. Instead of going to Nineva Jonah ran the opposite direction. Through a series of events he ends up in the ocean being swallowed by a whale where he spends 3 days contemplating his choice and changing his attitude. He eventually goes to Nineva and cries repentance to the people as the Lord had commanded him. The lessons Jonah learned are applicable to all of us and can be translated into many different aspects of our lives.
The show was wonderful. The theatre did says that they used some creative license to fill in the story, and so there were parts not identical to the Bible story, and their interpretation of some things differ from my beliefs, but regardless the show was beautiful. The songs were catchy, clever and moving. The scenery was beautiful and amazing. The sets were huge and technically advanced with moving parts. When Jonah was in the ocean the fish, sharks, jellyfish, bubbles and whale were amazing. It was so moving, I got teary. It was beautifully done. This is hands down the best show in Branson. My kids loved it. My 1-year-old did need to move to the top of the theatre so he could get his wiggles out, but even still he enjoyed watching the show and was mesmerized by the under water scene.
This is a show I would recommend to everyone. It is, obviously, very family friendly. It lasts about 2 hours and 20 minutes so be prepared and eat a big meal before you go. I'm so excited to have learned about the caliber of productions they put on at Sight & Sound Theatre and we will be making an effort to attend each show going forward. It is so worth the trip and cost of admission. No expense was spared, they went above and beyond with the whole show.
Have you seen Jonah? Or another show at Sight & Sound Theatre? I'd love to hear about your experience.
You can see more of my Branson favorites on this #ExploreBranson Pinterest Board: