Disclaimer: I received a discounted rate at Great Wolf Lodge in exchange for a review of my family's stay. All opinions are my own. Yours may differ.
We moved to central Kansas in 2007. Once we were settled in we were very interested in visiting Kansas City and checking out all the sights. On one of our visits we came across Great Wolf Lodge. This amazing looking hotel called to me. I very much wanted to take a family vacation there but for one reason or another it never happened. I had a friend who's family would go spend a weekend there every year- it was their tradition and she would always tell me what a marvelous place it was. I was very excited when 6 years after first seeing Great Wolf Lodge I finally got to enter it's doors with my family for a 1 night stay.
One thing you should know about me is I love a lodge! In fact that is a saying at our house "I love a lodge." Whenever we start thinking about vacations, or it starts becoming fall outside, the conversation always happens "Let go find a lodge in the woods to visit." There is something about a cabin-esque feeling place that I love. Now mind you, I DO NOT rough it, so I just like the appearance of rustic. 🙂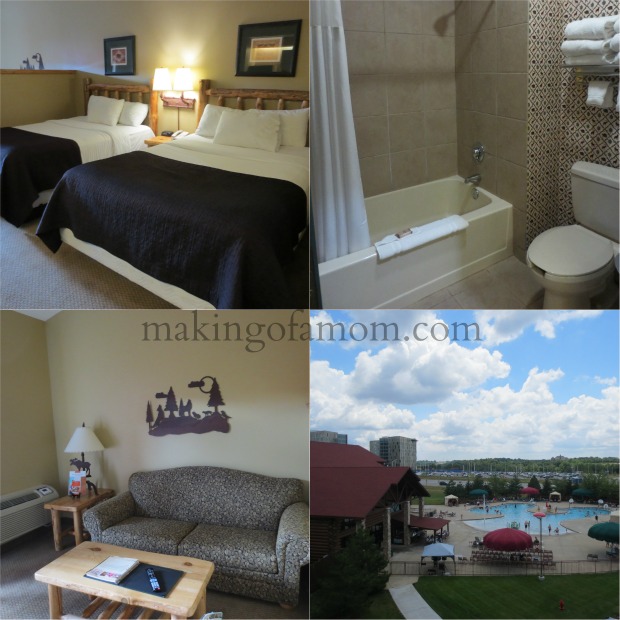 For the one night we were at Great Wolf Lodge we stayed in a family suite. This room had 2 queen sized beds and a semi private sitting area with a couch that made into a bed. The room was lovely and also included a fantastic balcony. Look at our great view of the outdoor portion of the water park. You can begin to use the water park at 1pm on the day of your arrival even though check in isn't until 4pm. When we arrived at 1pm our room was ready so we went on up to drop off our things before we headed to the water park. The room was very clean and very generous in size. I loved all the rustic details throughout: the wooden furniture, the wall decor, the beds, even in the bathroom the wall paper had diamonds made out of twigs and inside each diamond was an animal. It was so great and totally fed my need for a lodge vacation!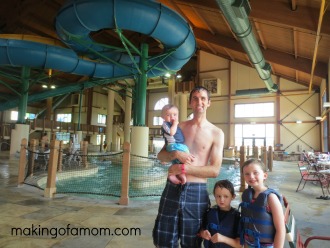 Like I mentioned, on the day you check in you can begin to use the water park at 1pm. Also worth noting, on the day you check out you can use the water park until closing – which is 9pm. This is great news for us since we were only there 1 night I was at first worried we weren't going to get much swimming time. Thanks to their great water park policies, we had plenty of time to enjoy it!
The water park was amazing, it had something for everyone! There was a kiddie pool area with a splash zone and little water slides for toddlers. As you can see in the picture above there was a huge tree house with bridges, cargo nets, spray stations and 2 fun slides. On top of this tree house is an enormous bucket that dumps 1,000 gallons of water out onto bystanders every 5 minutes. My kids loved the tree house, they also loved the lazy river! This river is only about 3 1/2 feet deep so the kids could walk it or float. OH I want to note there are complimentary life jackets available for kids on a first come, first served basis, but there were TONS of jackets, so it wasn't ever a problem getting one. Beck to the lazy river- there are also tubes available if you wish to float the river. There is a nice sized pool that has a giant floating snake to play on, or lily pads to cross or basketball hoops to play with. My baby liked that pool the best because it was the warmest (besides the hot tub of course – there is a family hot tub and an adult only hot tub). Then there are three really big water slides- green, yellow and blue. You ride a tube in each of the slides. The green and blue slides are for up to 2 people, and the yellow slide can accommodate 3. We had a lot of fun taking turns going down the water slides.
Even though the water park was so much fun, and we did spend hours and hours there, more fun awaits you in the hotel! For your kids enjoyment there is an arcade, a children's spa, cub club, mini golf, MagiQuest, daily fun activities and more. When we first arrived at the hotel we saw kids with wands running all over the hotel flicking their wands at different items throughout. My kids of course got very excited about this activity. I told them we would look into it. Since I knew the hotel had fun free activities like story time and wolf walk, I assumed that this game was also a free activity. I thought that perhaps you "checked out" a wand and played the game and the returned the wand. This was not the case. This is called MagiQuest. This game takes you into an enchanted world with pixies and goblins. When we went to the store where you buy your MagiQuest items we found that it is quite pricey and we opted to skip that activity, much to the disappointment of my kids.
We did however attend story time at night. The clock tower animals came to life with singing. Then one of the cub club workers told the story of Great Wolf Lodge. It was fun. The next morning we also attended the "Wolf Walk" where the kids explore the lobby of the hotel that houses wolves and some reindeer. The kids learned about those animals as well as the animals at the clock tower. After learning about the animals the kids made an origami wolf. The cub club instructor was very good at her job. She was patient as she helped the kids fold the paper and helped out where needed.
We were only able to be at Great Wolf Lodge for a little over 24 hours, so I would totally recommend staying for a few days. With the fun of the water park and all of the fun things happening inside the hotel, you definitely need a few days to explore and do everything- and save some extra money to participate in MagiQuest. We didn't do it, but it looked like fun and almost every other child we saw was doing it.  We had such a fun time and would recommend Great Wolf Lodge to you in your future travels. I know I hope we can go back soon!