Disclosure: I received free product samples for review in my Holiday Gift Guide. All experiences and opinions are my own. Yours may differ.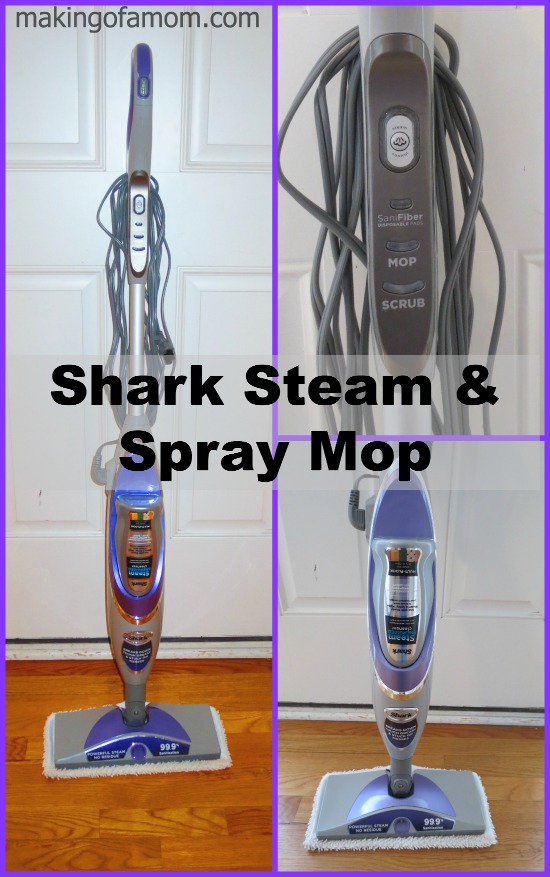 Everybody seems to have that one chore they hate doing. I mean, the word chore itself means something that is hard to do. For me the chore I hate the most is mopping. I have owned several mops throughout my life. Some of them were acceptable, most not. I was very excited to try the Shark Steam & Spray mop, but nervous because it had such high standards to meet.
When getting the Shark out of it's box it requires some assembly. I have a few tips to make your experiences smoother than mine. First read the manual! Second, make sure you put the batteries in the mop before you attached the cleaning solution. I saw the battery case and meant to put the batteries in first but was so excited I forgot and had to take out  the cleaning solution which resulted in a small spill. You need the batteries in place for the spraying feature to work.
Once it is all assembled you use the included water spout to fill the steam compartment with distilled or filtered water. Once that is done you are ready to go!!
Included with the mop are 2 disposable pads for mopping and one washable pad. I decided to use the washable pad because it looked like a really good scrubber! As you can see in my before and after pictures the mop really helped. I LOVED using it. It was easy to maneuver. When plugged in the steam only 1-2 minutes before it is heated up and ready to go. You can adjust your level of steam to SaniFiber, Mop and Scrub. I used the scrub setting this go around.
I have two wood floor areas in my house.  Once I was done with the entry way I went upstairs to the kitchen/dining area and mopped it more. The mop did fantastic. It is light and easy to control. The washable pad did a fantastic job. All of the elements combined (spray cleaning solution, steam) did an excellent job! Once the floor was dry and we could walk on it again my husband said he could just tell a difference walking on it, that it felt so much cleaner!! How awesome is that!?! According to Shark this mop offers 99.9% sanitization, killing germs and bacteria without leaving a residue.
You might think giving the gift of a mop for Christmas might not be well received, but let me tell you- this mop is amazing! If mops had a classification, this one would be "gourmet". The Shark Steam & Spray mop would make a fantastic gift and for $119.99 it isn't just a little mop but a very nice piece of household equipment.