I'm happy to team up with Dawn and Double Duty Divas to share this content. All opinions are my own.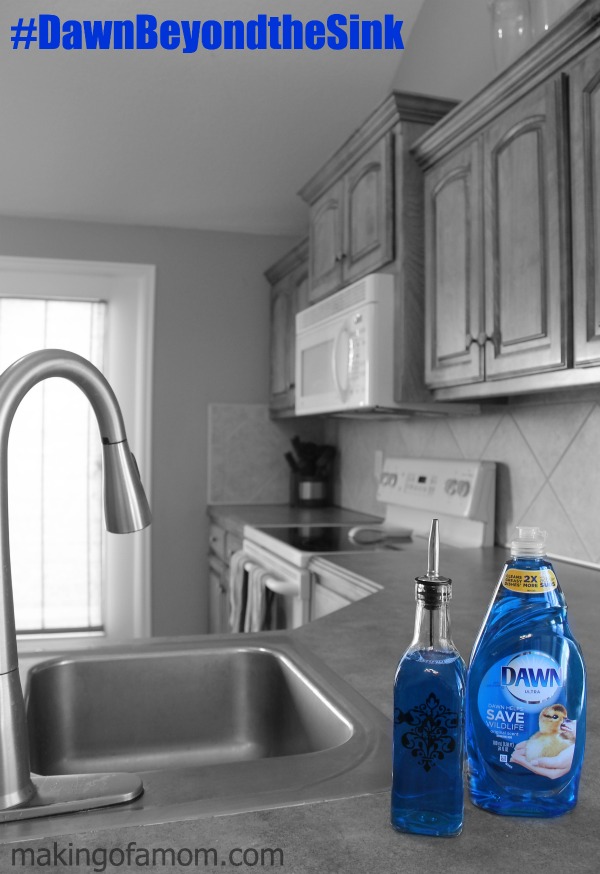 A clean kitchen is a happy kitchen!
In the evenings when I'm making dinner I often find that the food in my frying pan doesn't just stay in my frying pan. Often times, when the food gets hot enough grease, fat, little food particles and more start flying out of the pan. Sometimes when I'm making sauces or boiling water things great really crazy and spill over. These messes are such a pain to clean. There are even times when I don't even notice the grease splatter on the top of my oven near my knobs and controls and so it goes without a wipe down.
The other day when a bottle of Dawn dish soap arrived at my house I was very excited to get cleaning my kitchen – not just my dishes. Dawn is a master grease cutter in three ease steps:
Squirt a drop of soap on a wet sponge or rag.
Scrub the greasy surface – note how easily it disappears.
Dry.
Since I know that I'm not the best oven-grease-splatter-cleaner I immediately got a wash rag wet, put a little drop of Dawn on the rag and washed away the grease on the top of my stove. I did expect to put have to scrub a little because who knows how old the platter was (embarrassing, I know!) but it came off really easy. After rinsing the soap off, my oven sparkled and I was happy!
I like a little "kitchen candy" (play on arm candy) by my sink. I decided that not only could Dawn make my kitchen sparkle but it could also be a cute accessory by my sink. I purchased a glass oil dispenser, cut some vinyl with my family's monogram and a damask pattern and placed the vinyl on 3 sides of the bottle. It is so cheery now when I'm at my sink, doing my dishes or cleaning my kitchen. Using the Dawn soap in my cute decorated bottle is a lot more fun! Plus, bonus, the bottle drizzles the soap slowly and you only need a little bit to create a good lather so the soap will last a long time.