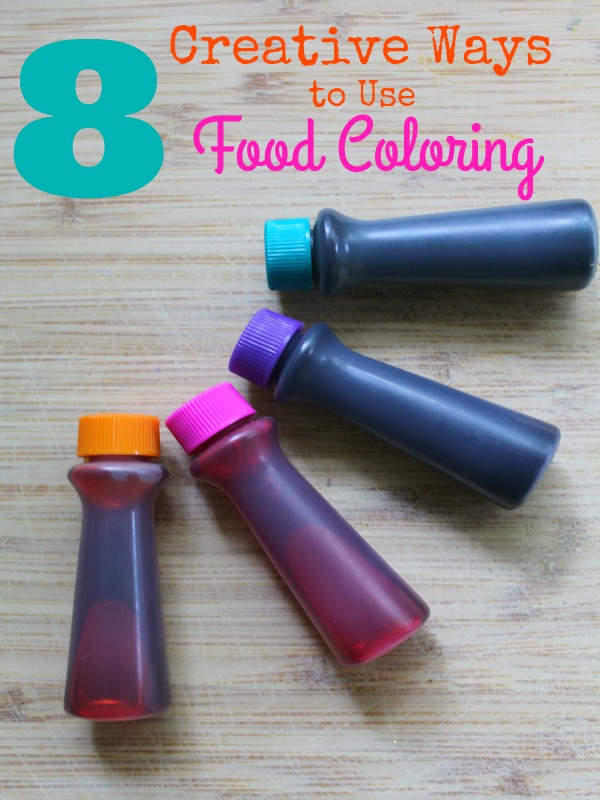 You might have used food coloring to color your frosting and other desserts, but did you know it has so many other uses as well? Food coloring can be used in all sorts of creative ways, and we have included 8 creative was to use food coloring below! Whether you are an avid crafter or just want to add some color to your snacks, take a look below at 8 creative ways to use food coloring so you can start putting those bright little bottles to good use.
1. Make your breakfast pop.
Add a few drops of food coloring to your scrambled eggs or pancake batter to make your breakfast pop! It is an easy way to add some color to your meal and make it more appealing and fun to children. A few drops is all you need for some fantastic color. Green eggs and red pancakes, anyone?
2. Make your own sea glass.
Add a few drops of blue and green food coloring to basic white crafting glue and then brush the mixture all over a clear glass jar. When the mixture dries the glass will have a sea glass effect that looks just like the real thing.
3. Make bath time more fun.
Consider adding a few drops of food coloring to bath water to make it more fun for kids. You only need a few drops, as you don't want the water to stain skin. This is an easy way to turn their bath into a swamp or ocean! Just add a little blue, green, or both!
4. Add color to your sensory bins and tables.
If your children love sensory activities, consider adding food coloring to make it more fun. A few drops of food coloring added to dry rice can turn it vivid hues. You can also add a few drops to water tables to add color. Brighten up your sensory activities with food coloring.
5. Try this easy shaving cream craft!
Spray shaving cream onto a cookie sheet and add a few drops of food coloring. Children will love playing in the cream, writing their name in the foam, and enjoying the sensory experience. This is the perfect activity for a rainy day.
6. Dye ice cubes.
What a fun way to make a party pop! Try adding food coloring to your ice cube tray before freezing them so your ice cubes come out in vivid hues. As they melt they will color the beverage, so using them in water or a clear beverage like Sprite is ideal.
7. Make snow paint.
Welcome snowy days with this easy to make snow paint. Fill a water bottle with water and a few drops of food coloring. Shake, and spray. The end result is colored snow that looks tie dyed. This is the perfect way to pass a snowy day while still getting crafty.
8. Make your own flour paint.
In a bowl mix some flour and water until you have a paste. Add a few drops of food coloring to add color. Children can then dive right in and use it as sidewalk paint or on poster board.
Are you ready to start using food coloring in new and exciting ways? Give these 8 creative uses for food coloring a try!