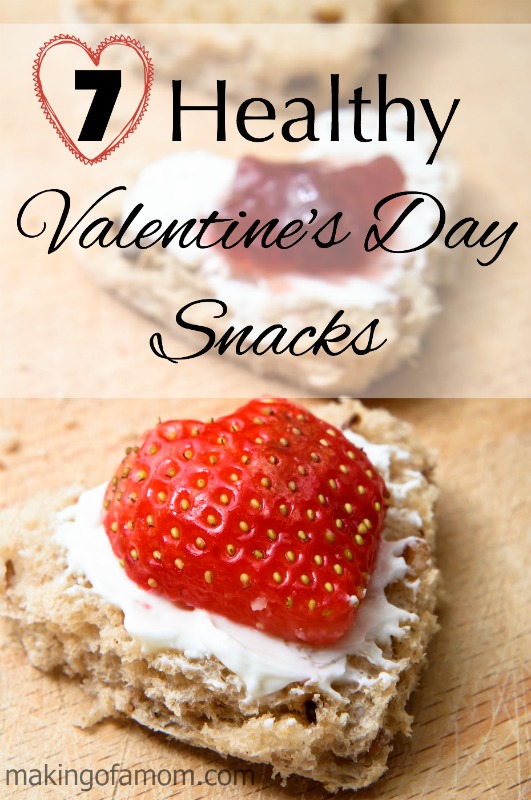 Valentine's Day is usually all about the chocolates and sweet conversation hearts, but what if you are looking for some healthier alternatives? Take a peek below at 7 healthy Valentine's Day snack ideas that you can try. Whether you need to provide treats for a classroom party or just for your own family, these are a great way to treat them more nutritiously.
1. Heart grapes
Take fresh grapes and cut them at an angle. Match up the two sides so a heart shape is made. Run an appetizer pick or toothpick through the two halves to hold them together then serve. The final result is bite sized hearts that are good for them.
2. Yummy Yogurt Bars
Poke holes in the lids of your favorite yogurt and press a wood craft stick into each. Place in the freezer for 2-3 hours. Remove and pull from the cup. You now have yummy yogurt bars that are cold, sweet, and healthy for kids to munch on.
3. Sweetheart Trailmix
In a large mixing bowl mix low sugar cereal such as Chex, Cheerios, Kix, and Life. Add in raisins, dried cranberries, and dried banana chips. Add a pop of pink by adding either pink marshmallows or pink chocolate candies. It gives kids a little sweetness without experiencing sugar overload.
4. Banana Boats
Let kids make their own banana boats as a sweet treat. Place a banana in a dish and top with healthy toppings such as peanuts, shredded coconut, peanut butter, dried fruit, or anything else you can think of. Then, grab a fork and dive in.
5. Sweetheart Punch
Take a low sugar juice or drink mix and prepare as normal. Add in some slices of strawberries, cranberries, or cherries. Top with a spring of mint. This is one kiddie beverage that they will be sure to love!
6. Heart Tea Sandwiches
Use a cookie cutter to cut shapes into cheese, meat, and breads of your choice. Stack the shapes to make heart shaped tea sandwiches. Kids will love cutting and creating their own little sandwich.
7. Valentine's Day Veggie and Fruit Tray
Use heart shaped cookie cutters to create a Valentine's Day veggie and fruit tray. Use the heart to cut shapes into cucumbers, melon slices, and more. Add some low fat ranch or yogurt for dipping.
See how fun it can be to enjoy healthy snacks on Valentine's Day? Give these tips a try and see what you can create.