Disclosure: This shop has been compensated by Collective Bias, Inc. and its advertiser, Walmart Family Mobile. All opinions are mine alone. #SummerIsForSavings #CollectiveBias #WFM3
This summer we spent many, many hours in the car together as a family traveling to several family vacations. Our latest road trip, and last one of the summer (sad face) ended just a couple days ago. While I had several hours to think about life in general, I got to thinking about how I could help make the most out of these summer road trips and came up with a few tips to share.
5 Tips to Maximize Your Summer Road Trip
The tips below are going to help you make your summer road trip amazing!  Take time to enjoy all of the little moments and create new memories with your family this year by using our top tips!
Capture the Memories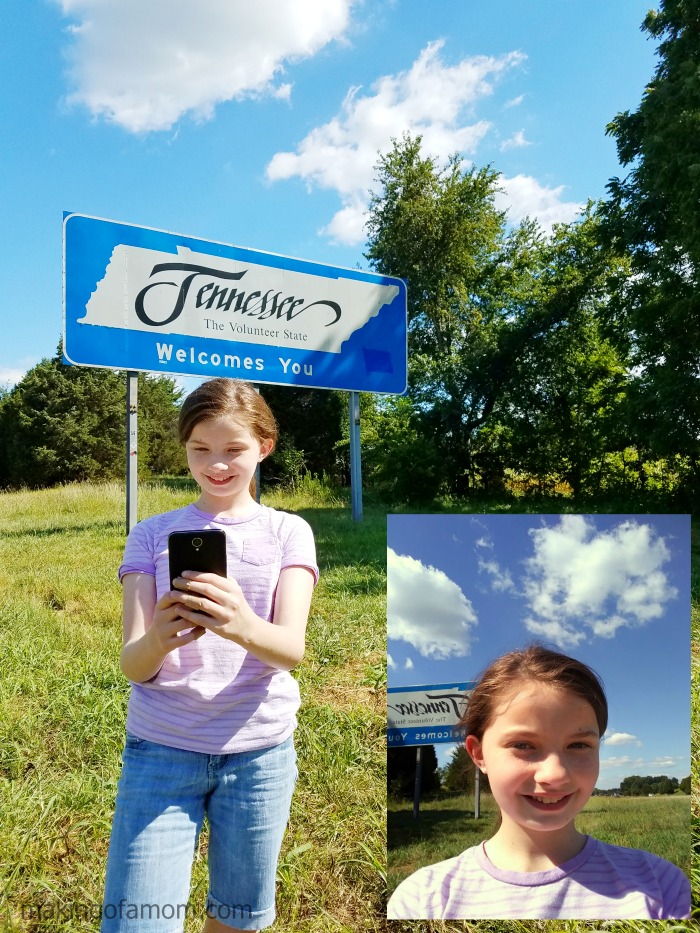 Life moves quickly. Children grow fast. Family time is tender. Try your best to capture the moments as they happen. Our latest road trip was a family reunion. We don't see our family very often as they all live far away so we did our best to capture the moments. Was it convenient to stop on the side of the freeway and capture a Tennessee sign selfie? NO! But worth it! This was her very first selfie with her first cell phone. So cute and so worth the stop.
On a last minute stop to Walmart before leaving on our trip we decided to upgraded our Walmart Family Mobile plan to the $49.88 PLUS plan powered by T-Mobile. (Disclaimer: All prices for phones and plans included in this post are accurate as of the date of posting; however, these prices are subject to change. Please refer to this page or your local Walmart for current pricing). Bonus, customers on this plan will receive a free VUDU◊ movie rental credit valued at $7.00 each time they renew their service. With this upgrade we also bought a new cell phone, the LG L59 Grace which we gave to our daughter. With no contract,  no activation fees and no late fees, this was the perfect cell phone situation for us.
Pictures with cousins, aunts, uncles and grandparents are so special. I hope that these times together are creating lasting memories for my kids, and tons of pictures will help them remember as the years pass.
Stay in Contact
My daughter was really excited to be able to text her grandparents updates as we traveled. She loved staying in contact with everyone as they traveled and felt very connected to the family. With the $49.88 PLUS plan she gets unlimited talk, text & data including up to 15GB of 4G LTE
†
data, then 2G
*
. She also got awesome coverage on T-Mobile's nationwide 4G LTE
†
network while we were in a very rural area. Now she can text everyone until her fingers are sore, where ever we are.
I feel like when I was young it was up to my parents to keep me feeling connected to the family because I didn't have any way to stay in contact. Now my daughter can text and call our family on her own. She can very much feel apart of the family by her own actions.
Plentiful Entertainment
Because of the amount of data her Walmart Family Mobile plan has and the great coverage on T-Mobile's nationwide network, entertainment was a breeze while we drove. She was able to play games online and offline, stream movies and videos, take tons of pictures, and download more apps when she got bored of the ones she already had. There was no end to the entertainment.
Never Get Lost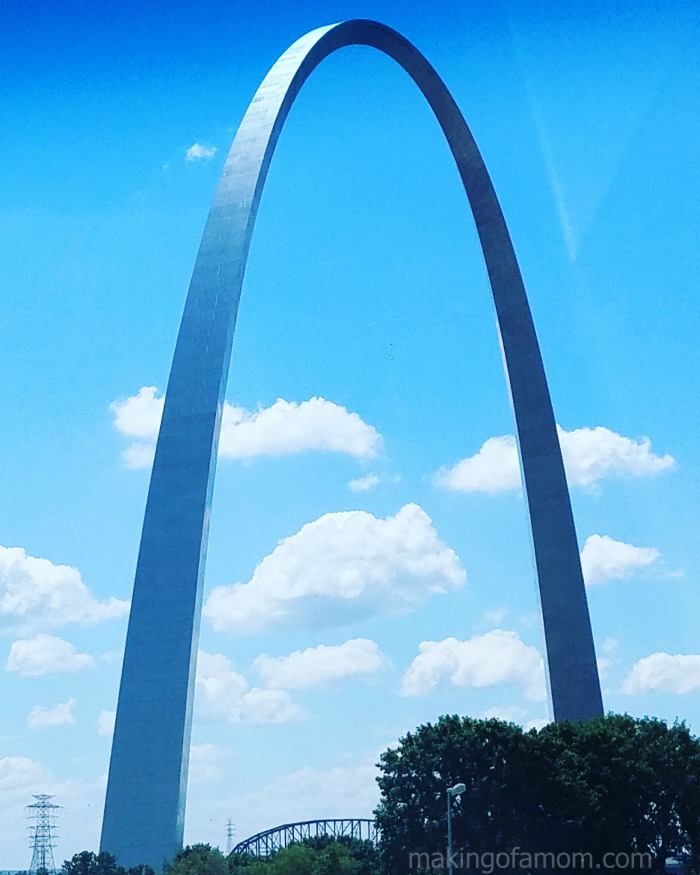 I love to follow the map as we drive along. Not only can you can you see where we are but also what is ahead and our estimated time of arrival. It was from following along with the map on her phone that my daughter discovered when the state boarders were coming up and asked us to stop and snap a picture. Unlimited data up to 15GB of 4G LTE† then 2G* sure comes in handy when you are driving for over 7 hours and the map is up and following along for several hours of that. It was helpful that she had her phone because on occasion her phone was the only one with a signal and we needed it.
Relax
Finally, this is vacation so relax! It's hard to relax on the driving part of a road trip but once you get to your destination, it's time to unwind and have fun. Let your normal worries go and have fun with your family. My family is really into games so there was a lot of playing together and laughing together. My favorite kind of relaxing is doing so with my loved ones.
We really benefitted from having the $49.88 PLUS Plan from Walmart Family Mobile, powered by T-Mobile on this latest trip. I'm really happy that this plan is out there and available, especially for my daughter and her beginning experiences with a cell phone.
What are your road trip tips? How do you make the most of your time driving between destinations?
*Please always refer to the latest terms and conditions at myfamilymobile.com.
†To get 4G LTE speed, you must have a 4G LTE capable device and 4G LTE SIM Card. Actual availability, coverage and speed may vary. LTE is a trademark of ETSI.
◊Limited time offer. Available for lines active with the PLUS $49.88 plan only. VUDU enabled device and account required for digital viewing. Customers must be 18 years or older to open a VUDU account. Movie rental only available in the USA. Free movie rental provided in the form of a movie rental code to the value of a $7.00 VUDU credit. Movie rental code allows for selection from available movies for rent. May not be readily redeemable on all new releases. Code will be delivered within up to 24 hours of the effective account renewal date. Must be used within 30 days of receiving code. Offer is non-transferable. Limit 1 per customer. Additional terms and conditions on VUDU's website: http://www.vudu.com/termsofservice.html