My family was given a complimentary meal in exchange for a blog post/ giveaway. All opinions are my own. Yours may differ.
Last year Black Bear Diner opened a location near our home in Independence, MO. We had never heard of this place before and so a couple weeks after it opened we visited it for the first time. We had an amazing experience and this restaurant quickly became a family favorite. Luckily, we have a daughter old enough to babysit so often times our date night would take us to Black Bear Diner without all the kids. Here are 5 reasons you need to try Black Bear Diner.
Darling Diner
The decor of Black Bear Diner is so adorable. Outside the restaurant are cute bear statues of different kinds. At our locations there is a Black Bear riding a covered wagon. There are also some black bears right out front. We always pose for a picture with out Black Bear friends. It feels like we are on vacation because we are taking pictures at the restaurant. Inside is equally adorable. Each wood post has a bear carved into it. In the dining room adorable little carved bears are hanging from ropes or swings. The pictures on the walls are of bears and nature. The whole decor is woodsy and I love it.
Family Friendly
Black Bear Diner is a pretty big sized restaurant and will fit your big group very nicely. We are a family of 6 which is pretty big these days, and their booths fit us just fine. On top of the fabulous sized tables, the kid menus bring the fun! Along with several crayons these fun menus feature all the food items available to  kids 12 and younger, but also a variety of games and activities. We all had a lot of fun playing the games together and figuring out the puzzles.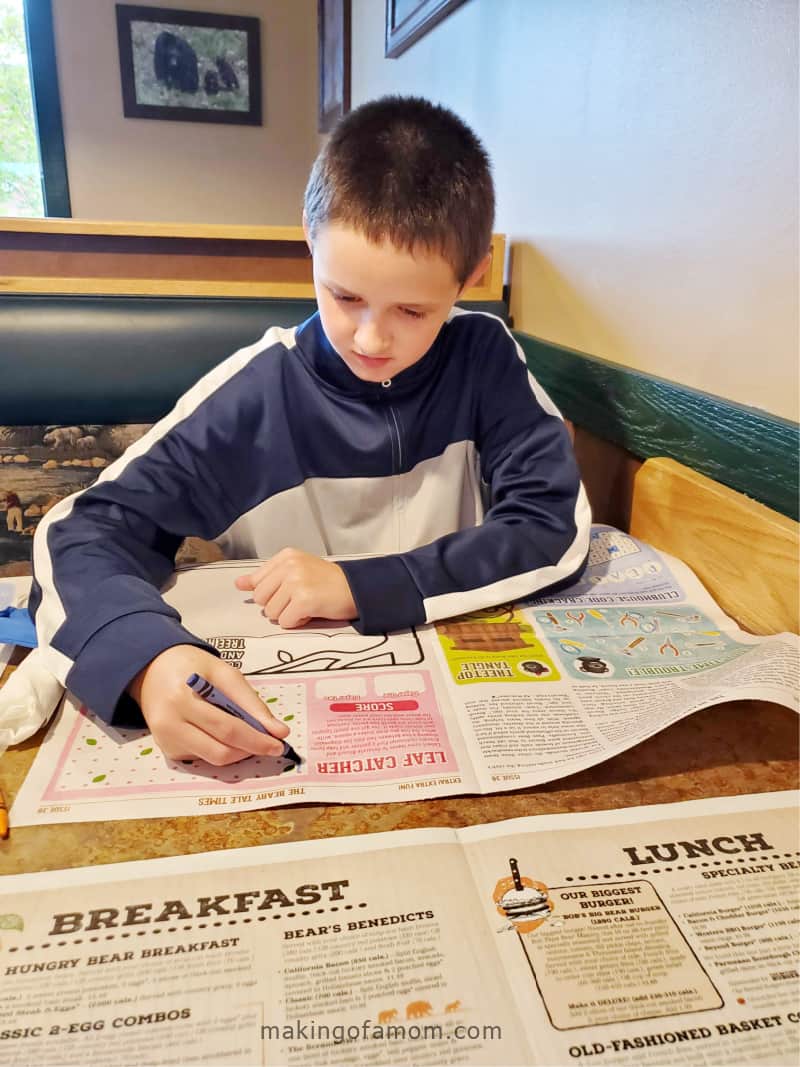 There were plenty of activities to keep them busy while they waited for food. Speaking of food, there are some great kid choices! Such a large variety of Breakfast (served all day), lunch and dinner, even the pickiest eater should be pleased.
Huge Menu
One of my favorite things is that breakfast is served all day at Black Bear Diner. They have a huge selection and making the choice is hard. They also have a big lunch and dinner menu. After every visit my husband and I always comment "Everything here is good." On one date night visit, we went a little crazy getting everything we wanted, two meals, extra sides, a shake (That'll be next and have it's own section!!), and dessert to go because at that point we were going to pop! Everything we have ever gotten is so good. It's so rare for me to go to a restaurant and not just have the 1 favorite thing I get every time. It's an agonizing choice each time I go. Do I get breakfast or lunch? Should I get something small so I can get all the sides I want? AHHH Choices! The biggest challenge for me is that the syrup at Black Bear Diner is the most delicious syrup I've ever had. I could literally just drink the little bottle it comes in. I ALWAYS want that syrup, but the lunch and dinner foods are good too, but how can I skip that syrup? You see my dilemma?
Portions
Look above at all of our food. The portions of the plates are awesome. It's so much food. When my husband and I go on dates we could easily share 1 thing, we just choose not too. My kids could have shared their dishes (and they kind of did, in the form of trading bite for bite) but they were excited to try new things so we let them get their own. You will walk out stuffed and probably with a box.
Also, as you pay at the counter you just happen to find yourself staring at a dessert counter with pies, cakes and cobblers. Just get a few to take home. They are delicious. We are slowly working our way through those desserts.
Huckleberry Shakes
If you go for no other reason, go for the Huckleberry! The Huckleberry Shake is so delicious. It's not even a seasonal item! It's ALWAYS there, and I ALWAYS get it. It is just so delicious! On Wednesday, just like normal I got my shake, but forgot to take into account the gaggle of kids I was sitting by, so my shake got passed around and everyone loved it. In other locations (ie. Oregon) They have other huckleberry items, but I'm happy and satisfied with the shake. So good!
If you are within driving distance to a Black Bear Diner get there! The food is so good, so filling, perfect for families and will certainly be the best meal you have that day! I'm so excited about Black Bear Diner I'm really excited to be able to offer 1 $25 gift card as a giveaway to one lucky reader!
Giveaway
I am giving 1 lucky reader a $25 gift card to Black Bear Diner! Winner will be verified, have 48 hours to respond or a new winner will be chosen. This giveaway will run from September 12 – 24 and is open to US residents only. Please only enter if you are able to visit a Black Bear Diner. Good luck!