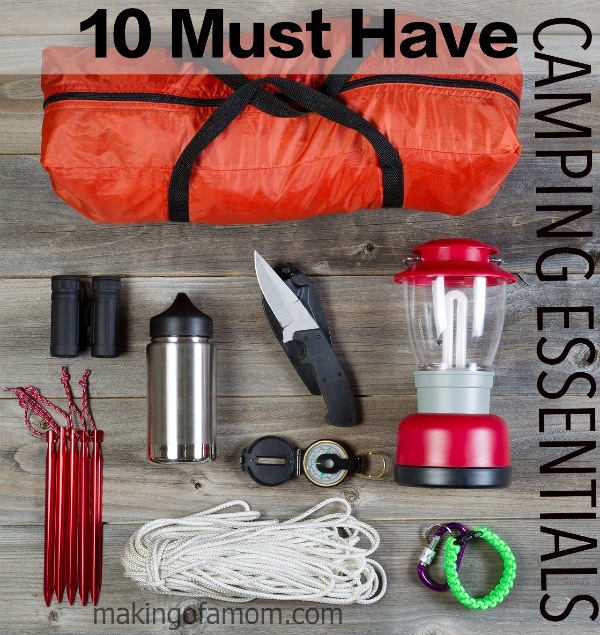 Have you ever stopped to think of all of the "essentials" a family must bring camping with them? Camping is a ton of fun, but if you leave one important item at home, it could be detrimental to your camping trip. Check out these
10 must bring items for camping this summer
.
#1. Sleeping bag- Whatever you do, don't forget the sleeping bag. If you're not using it for warmth, you'll need it for comfort to escape the hard ground.
#2. Lights of all sorts- When you go tent camping, typically you don't have electricity. That's why it's important to bring items like lighter fluid, flashlights, matches and even a kerosene lamp.
#3. Toiletries- Although you might not physically shower while camping, it's important to bring toiletries with you. Don't forget items like your toothbrush, toothpaste, brush, and deodorant.
#4. The food goods- When you're out camping, it's not typical to go pick up lunch at McDonalds; you're usually on your own. Packing all of the food goods is extremely important. Packing snacks and meals will help make your camping experience quite wonderful. Don't forget the condiments!
#5. The right gear- When tent camping, it's no secret that you need a tent, but there is also several other pieces of gear that you might need. Blankets, pillows, knife, compass and a charcoal grill are just a few items on the gear list that you do not want to forget.
#6. Dishes and utensils- All of that yummy cooking you will be doing while you camp calls for proper dishes and utensils. Items like aluminum foil, a spatula, pan to cook in, silverware, napkins, paper towels, and paper plates are essential to a great camping experience.
#7. Warm Drinks- If you are camping in the mountains, even in the summer it can get cool at night and in the early morning. Pack some warm drinks to warm you from the inside out. I love a good cup of hot chocolate in the morning!
#8. Proper clothing- Camping calls for you to bring proper clothing with you! Don't forget items like hiking boots, flip flops, swim suit, sweatshirt and even an extra change of clothing. Proper clothing while camping can help you from either freezing or getting too hot on your camping adventures.
#9. Garbage bags- As you dive into your camping trip this summer you'll need to have a place for your trash. Pack a few garbage bags with you to help avoid frustration of too much clutter.
#10. Water, water, and more water!- In the hustle and bustle of packing for your camping trip, don't forget to bring WATER. It's important to stay hydrated, especially as the temperatures rise in the summer.
Need help getting started on your camping plans? Don't miss my introduction to camping as a family.
Planning a camping trip for this summer? I'd love to hear your "must bring" items!