Tutu Wreath!
By Stefanie
April 26, 2012
When Stef and I got to spend a few days  together, we dropped by Hobby Lobby and saw this super cute idea! It was adorable and totally easy! I purchased a Styrofoam wreath ( I think it was 8″?) and then I picked out 3 colors or tulle (pink, purple and teal) and bought 2.5 yards of each. (If I did it again, I would get 2.75 yards of each) Then I found these huge flowers for 60% of at Micheal's! Woot!
We folded and cut the tulle into strips that were about 2″ in length.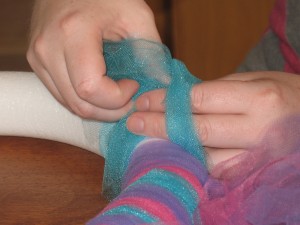 Then we quadrupled the strips and looped them around the wreath.
I attached a giant flower and voila! How easy is that?