Disclaimer: I received compensation for trying out this service and writing about it. All experiences and opinions are my own. Yours may differ.
Sing with me: Money, Money, Money, Money… MONEY. You know that song right? When I think of Visa cards that is what comes to mind! 🙂  At CARD.com you search through their 1000's of images to find the VISA debit card you love most. As you are going through the images if you see something similar to what you like, click on it, because there are more awesome images behind the main image on the page. At first I didn't think there were very many, but there are, just keep clicking!
Check out the awesome card I picked: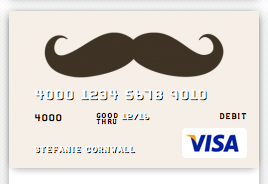 Don't you LOVE it? We have been obsessed with mustaches for a while at our house and my bank certainly isn't handing out a mustache debit card!
This is the card my daughter wanted me to get:
Once you find the right card you apply for that card and are approved right on the spot. Unlike gift cards that you throw away, the debit cards are re-loadable. Since it isn't a gift card you don't give or receive it as a gift, you are giving yourself a cute preloaded debit card! There are several ways to add money to your card. You can learn about adding money here. Plus they are accepted everywhere VISA card is accepted.
VISA Debit Card Features:
Free to order, activate and load

Free app and check deposits from your smartphone

Free direct deposit

Free card-to-card transfers, any time, anywhere, in seconds

No overdraft fees — never goes negative!

Safer than cash – 24/7 support, Visa fraud protection and 100% FDIC insurance on funds

No debt, financially responsible, no interest/credit/APRs

No credit check and approval in seconds

22,000 in-network ATMs

Thousands of cool, unique card designs to choose from, including brands like: Garfield, Popeye, Betty Paige, James Dean, Care Bears, Walking Dead, Star Trek, Autism Awareness, Breast Cancer Research, Shark Week, Where's Waldo, Doodle Jump, Three Stooges, Nancy Drew, etc.
The card is free for 30 days and then there is a $5.95 monthly maintenance fee. If you deposit at least $800 in prior to the end of the 30 days through direct deposit the fee will be waived.
Stop by CARD.com today and shop for your new perfect VISA debit card!