Disclaimer: We received complimentary tickets to see the Acrobats of China show in exchange for me review. All opinions and experiences are my own. Yours may differ.

On Saturday afternoon we were treated to the Acrobats of China in the Shanghai theater. This theater is off the main road (highway 76) in Branson which is nice because there is a little more room. Behind the theater is a lot of parking, but doesn't make for a long walk, so it is really nice.
We had fantastic seats to this show. We have seen some similar shows in different locations so we were really looking forward to this event. It is amazing what these people can do. If you are interested in a little video of the Acrobats of China you can watch it here. Not all of these acts in the video were in the show we saw, but it is still amazing.
The Acrobats of China had such an incredible line up of acts. Some of my favorite included the Chinese yoyo in which the girls would do tricks with the yoyo including passing it through the air to each other and juggling multiple yoyo's. There was an amazing act with chairs in which the girls stacked the chairs and each other forming a very high tower. It was very impressive. The boys were tricky as they jumped through different sized hoops at different heights, balanced on each other and juggled hats.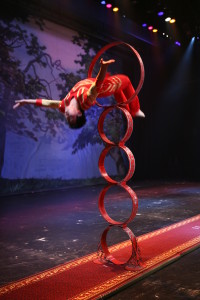 There were some intense acts such as when a man and women were flying high on two ribbons. At one point the male was holding onto the female with a strap around her neck and she began to spin. It was beautiful, but I was very nervous for her! There was also another act in which a male and female were dancing a ballet together. Towards the end of the dance the male put on a disk strapped to his head. As soon as he did this I knew what was about the happen. The female got up on his head en pointe. It was pretty incredible.
All of the performers were very bendy. Check out this picture of one of the girls acts.
Although the adults enjoyed this show I think my kids were a little young to appreciate it. My 4 year old (it was his birthday!) was not entertained. We had to buy popcorn at intermission to keep his mouth shut during the second half. My seven year old did pretty good. I would recommend this show if your kids are a little older and can appreciate the incredible talent and strength the performers displayed. So many people around us kept "ooohhhhh'ing" and "aaaahhhh'ing". Everyone seemed very impressed.
We had a great time at the Acrobats of China and appreciate their generosity in letting my family visit!