Disclosure: I received a free product sample for review in my Holiday Gift Guide. All experiences and opinions are my own. Yours may differ.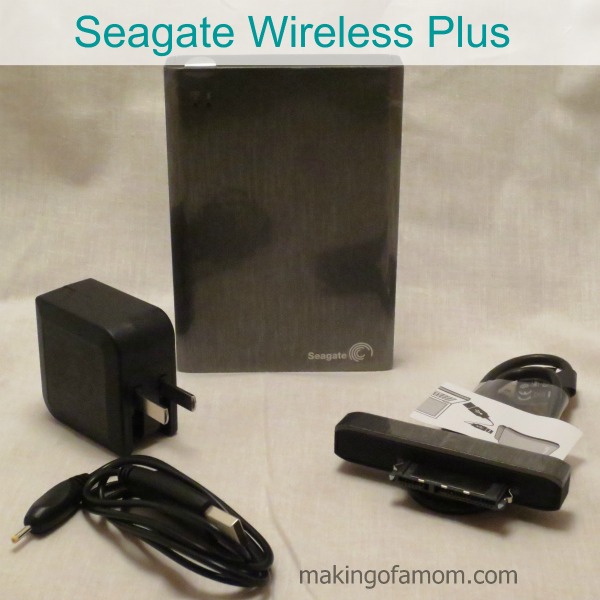 Tablets and smartphones are pretty amazing with all they can do but are limited on space, so you can only bring a handful of your movies, music and pictures with you. The Seagate Wireless Plus is a battery powered wireless hard drive for you tablet or smartphone that fits in the palm of you hand. The Wireless Plus has 1TB (terabyte) of storage space, that's 1,000GB. A typical smart phone has around 16GB of storage space, the Wireless Plus is 62.5 times bigger than that.
Fill It Up
1TB of storage space is a lot of space. You can fit 500+ movies or thousands of songs and pictures on this small hand-held device. There are two methods for getting stuff onto the Wireless Plus, you can connect it directly to your computer with the supplied USB 3.0 adapter and cable, or you can upload media when you are connected to the Wireless Plus.
Take It Anywhere
You can take the Wireless Plus anywhere you go; just plug it in, charge it up and your are good to go. The box says it best:
Mobile storage you can access without wires or the web. Wirelessly stream all your videos, music, photos and documents to your tablet and smartphone. Use it at home or on the road – without internet access.
Spend Hours Enjoying It
With up to 10 hours of battery life you can take the Wireless Plus anywhere you go, and if the battery runs out you can plug it in and keep using it. Seagate offers free mobile apps for iPhone and Android devices which makes it easy to access the content on the Wireless Plus. You can even access the content from a browser on your computer.
Uses
The Wireless Plus can stream content up to 8 devices (or up to 3 if you are streaming HD content). I was able to connect 8 devices to the Wireless Plus:
Mac Book
Android tablet
Galaxy Note 3
Galaxy S III
2 Windows computers
2 iPhones (3G, 3GS)
I was able to play videos on 7 devices all at the same time. The Seagate app for the iPhone 3G it too outdated to work with the Wireless plus, otherwise it would have been 8 for 8. (There is also a Seagate app for Kindle Fire, but we don't have one of those to test)
Watching Movies
When we are on a road trip we love watching movies in the car. But lately our kids are getting old enough to not always agree on what DVD to watch. With th Wireless Plus the kids (and the Mom) can watch anything loaded on the Wireless Plus independently of each other. We are planning a big road trip next summer so we need to start loading it with all of our digital movie downloads and videos and everything else.
Listening to Music
We love listening to music in the car weather it the radio or on Pandora or even CDs. I tried to think of a way to listen to the music on the Wireless Plus in he car. Although you can connect the Wireless Plus directly to car stereo, this is what I can up with: connect to the Wireless Plus using your mobile device then use your phone to connect to the car. We use am FM transmitter to play music on the car stereo. (If you don't know what that is check them out here http://www.amazon.com/FM-Transmitters-MP3-Player-Accessories/b?ie=UTF8&node=13981621)
Exchanging Pictures
Every other year we go to a family reunion with my wife's family. With over 30 people participating in the family reunion activties throughout the week of the reunion a lot of pictures are taken by a lot of people. At the end of the reunion we all want to exchange pictures, we usually end up passing around the memory cards and copy the pictures to our laptops one person at a time. But with the Wireless Plus we can put all the reunion pictures on the Wireless Plus and everyone can access it and download the pictures they want. That way you can avoid waiting around for the memory cards to be passed to you.
How to use the Wireless Plus
Press the power button the Wireless Plus and wait for the blue light to stop flashing.
Connect your smartphone, tablet or computer to the "Seagate Wireless TKN" Wi-Fi network.
Open the Seagate app on your smartphone or tablet – or – go to www.seagatewirelssplus.com on your computer's browser.
Now you have access to all the movies, music, pictures and documents on the Wireless Plus.