This is a sponsored post written by me on behalf of Tyson Foods, Inc. All opinions are entirely my own.
Are mornings always smooth for you? I'd guess not. Mornings can be rough. Perhaps you miss your alarm, hit snooze too many times, aren't feeling well, have kid issues, whatever it may be, some mornings don't go according to plan. On those mornings you need an easy and quick breakfast solution – especially if you're in a hurry. These stuffed 
Jimmy Dean® Hash Browns
are a great answer to the morning rush.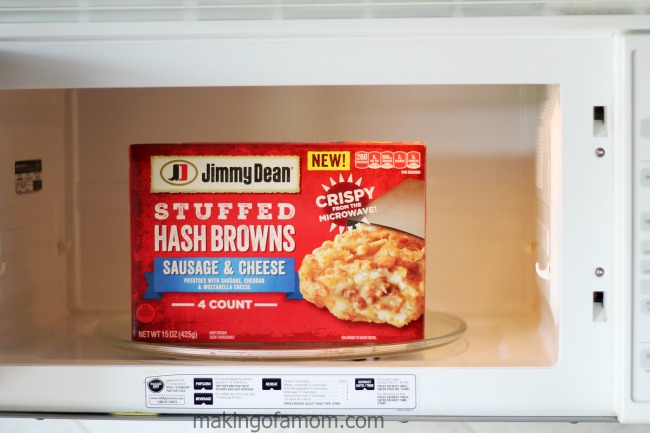 Found in the Walmart freezer section the Jimmy Dean stuffed hash browns are found with other Jimmy Dean breakfast products. The stuffed hash browns appealed to us because they are made in 2 minutes in the microwave. This is the perfect quick breakfast option when you are short on time.
Simply place the hash brown in the crisping sleeve, place in the microwave and cook on high for 2 minutes. It's simple. For crispier hash browns let it set for 5 minutes. This is a full breakfast with an outside of crispy hash browns and inside filled with sausage and cheese. It's like a clever breakfast sandwich.
It seems about once a week my husband has some kind of mishap on his way out the door. Instead of skipping breakfast he can now place a Jimmy Dean Stuffed Hash Brown in its pouch, cook it for 2 minutes in the microwave while he gathers his things and head out the door with a full breakfast. The size of the hash browns are pretty big, in my opinion, and they have have 9 grams of protein so it makes a hearty breakfast. With the crisping sleeve it's easy to eat in the car and on the go.
Want to try this new product and save some money doing so? Check out this
coupon for Jimmy Dean Stuffed Hash Browns
 and save a little money when you try it.
Take a look at the Jimmy Dean products at Walmart and let me know which one you want to try? I'd love to try all the stuffed hash brown varieties.
.