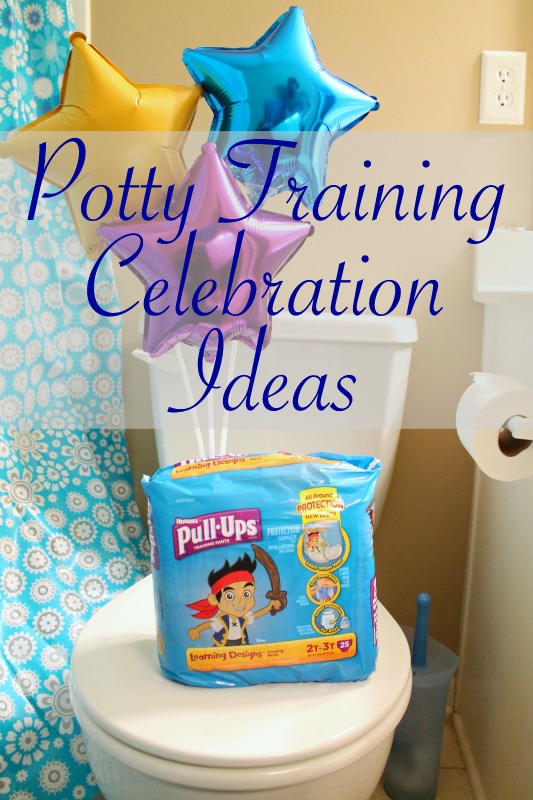 Potty training can be the things of nightmares. My first two children were very hard to potty train. Our seasons in the bathroom usually involved crying and screaming- by both of us. Luckily, child number 3 has been an angel to potty train. He has been easy to motivate and bribe and will happily complete the task at hand for a little Potty Training Celebration when he's done. If bribes, or fun motivation works for your kids, here are some Potty Training Celebration Ideas.
Let you child pick out fun underwear. My 3 year old has loved picking out his favorite characters. Once he transitioned out of Pull-Ups® Training Pants during the day (we still use them at night) he was so happy to put on his favorite pair of underwear and NOT pee on them! Even with the Pull-Ups® Training Pants your child can choose their favorite character. I saw Lightening McQueen, Doc McStuffins and Jake and the Neverland Pirates available at Dollar General.

Potty prizes are a fun way to offer support, encouragement and a fun bribe. My child loves paw patrol, movies, fruit snacks, sticker and other little items. I collected several small things and put them in a plastic container. Whenever he successfully used the potty he could pick a prize of his choosing. He loved this special present for a job well done. In the beginning of him putting #2 in the toilet I had a couple special bigger prizes to awarded him with. Once it became "normal" the smaller potty prizes sufficed. I continued the potty prizes until there weren't any more regular accidents during the day. Of course we have a slip up here and there, but he steadily uses the toilet now. 

Sticker charts are a fun way for your little one to actually visually track his/her progress. By placing a sticker on a chart every time the potty is used, everyone can see what a big boy/girl they are and can celebrate together.
GAMES! Let your little one earn the chance to play a potty training game on the Pull-Ups® Training Pants website. There are 5 ideas for some really fun games to play while helping your child potty train.
My family loves a dance party. When the use of the toilet would happen while his siblings were home we would have a celebratory dance party afterwards. We put on some music and would dance, clap and cheer for our big boy. He loved the attention and the family fun time together.
Use this step as a transition to becoming a full fledged big boy/girl. My toddler is in a crib, but we have been wanting to switch him to a toddler bed. With becoming fully potty trained, it's a good time to transition him into a big boy bed. Big boys use the potty and sleep in real beds. What a fun way to switch to a big bed.
Want to save money while potty training your little one? Dollar General has digital coupons to help you save $2 on packages of 
Pull-Ups® Training Pants
. The app was easy to download, set up and get my savings at the register. Here's the details:
This coupon offer is good from April 28th – May 19th, 2016.
To redeem Digital Coupons:
1. Sign up here or Text JOIN to 34898 to begin saving today!
2. Create account and load which Pull-Ups® coupons you would like to load
3. Visit your local Dollar General to redeem coupons at checkout. Find a Dollar General near you by using the store locator!
Of course that process will work for all of the Dollar General digital coupons. I'm lucky enough to have a Dollar General right down the road from my house, so it's my go-to place when have an item I need now and then but I'm not ready for a big shopping trip.
If you have other ideas for celebrating the little successes during potty training please let me know! Also, don't forget to get your coupon and save money while potty training.