Getting in the mood for Christmas!! Here's a cute craft for ya!
What you'll need: Green Paper, Red Paper, Yellow Paper, Paper Plate, Scissors, Pencil (or marker, pen, etc), Glue (or tape or stapler)
First thing they'll need to do is trace their hands several times on both green and red paper. Depending on the their hand size- I'd say they'll need 10-12 of each color.
My kids got seriously sick of cutting out hands, so I cut the plate to lighten the load a bit!
Glue the green hands around the edge of the plate.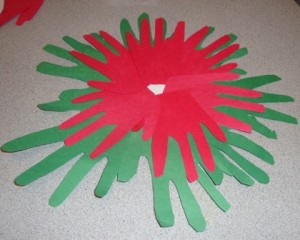 Then glue a row of red hands on top and inside the green.
Since I made the plates smaller, we stopped here. But with a full sized plate, you'll want to do a second row of red hands. Then glue a yellow circle in the center and voila! A super cute and easy craft for Christmas!