Disclosure: I received free products for review purposes. All experiences and opinions are my own. Yours may differ.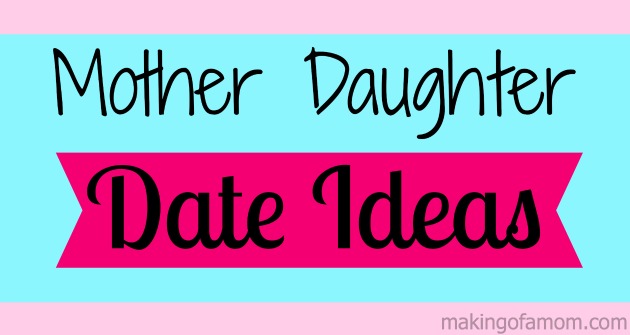 Before school starts and life gets crazy I like to take my kids out on individual dates. We have a lot of fun as a family, but I think this individual time is a great way to let them know they are loved individually! It's a great time to create memories and bond.
Here are some of my top Mother/Daughter date ideas:
Go out for ice cream. My daughter loves our local frozen yogurt place, and she knows I love her if I take her there! Also, don't forget Sonic has half price shakes after 8pm. Make it an evening date to save some money! What is your daughter's favorite place to go?
Go shopping. For Back to School shopping this year, instead of bringing along the whole crew, my daughter and I went and did it together. We were able to get some clothes and shoes for her and get a couple of things for my son who is entering Kindergarten. Since he is much less picky, it was easy to get a few things without him.
Head to the movies. If there is a movie your daughter has been dying to see, or one that looks like fun for both of you make a date out of it.
Go out to dinner or a picnic. Having a date over dinner is a great way to spend quality time together. Let your daughter pick the restaurant so she knows the night is all about her. Talk about the new school year, what is she excited about, what is she nervous about, help her with any problems she might have. These are the moments she will remember forever.
Visit Build-A-Bear. This is one of my daughters favorite places on the planet. She knows that it is a special occasion if she gets to go to Build A Bear because we don't go there very often. I recently surprised her with a visit!
My daughter loves My Little Pony and Build A Bear has some great new My Little Ponies that just hit the stores. If you haven't been to Build A Bear before let me tell you how it works. You first pick the "bear" that you want to build. These are just a shell of the stuffed animal. You then head over to the stuffing station, fill your bear with stuffing and love, give it an air bath and then pick out some darling clothes.
We have always had such great employees helping us whenever we go to Build A Bear. They are so friendly and work to make your child's visit special and memorable. My daughter had such a fun time making Twilight Sparkle.
As I mentioned, Build A Bear has some new ponies out from the My Little Pony series. Available now are Apple Jack, Apple Bloom, Trixie and Zecora (only available online). Also worth noting is that Build A Bear is retiring Rainbow Dash and Fluttershy so if you are trying to collect them all you need to hurry!
Once you are finished making your pony you can head to the wall of the special clothes meant for each pony. They have such a great selection. My daughter wanted to get Twilight Sparkle because they had her princess outfit.
Build A Bear products are high quality. They have wonderful customer service too. One time my son's Build A Bear puppy started coming open and we took the toy in and they fixed it right up. You can also sign up for the newsletter and get birthday coupons and sale alerts. We may not visit often, but it is special whenever we do.
What are you favorite Mother/Daughter date ideas? How often do you go on Mother/Daughter dates?