I participated in an Influencer Activation Program on behalf of Influence-Central for Littlest Pet Shop. I received a sample to facilitate my review and a thank you item for participating. All opinions are my own.
My daughter loves Littlest Pet Shop. She watches the show and loves the toys. We had a ton of the "old" style Littlest Pet Shop toys but cleared things out when I found out about a Littlest Pet Shop party I would get to host thanks to Influence-Central. I was sent an awesome package filled with new Littlest Pet Shop toys and a DVD of the show. My daughter and I set to work planning the party.
First we had snacks and watched an episode of Littlest Pet Shop. On the Sweetest Pets DVD was 5 fun episodes:
Topped with Buttercream
Trading Places
Sweet (Truck) Ride
Whats in the Batter?
Bakers and Fakers
We watched the first episode while eating our own sweet treats of cupcakes and popcorn. Some of the girls got excited because they had seen the episode before. Other's hadn't seen it and were very interested. While the girls watched the movie my husband and I built the play sets.
As a parent I really love these new Littlest Pet Shop play sets for several reasons.
They are customizable. The new pets can switch heads and bodies (yes it sounds weird, but it's cool!) and accessories.
You can also customize the buildings. Each set comes with little decorations that can snap into the chandelier, the walls and other places on the toy. You can accessorize almost everything with your favorite shapes, designs and colors. Each set also has stickers for extra customization.
The play sets are compatible with each other and stackable. We got two rooms and the shop from Littlest Pet Shop. They can stack on each other to become one big building. Since there were 3 families at our party each left with one of the play sets. I wanted to give them a chance to start their own Littlest Pet Shop collection.
Each set came with furniture so you can arrange and re-arrange all the furniture. The sets also had backdrops on their walls. Our sets had a bedroom scene on one side and a stage on the other. It was fun for the girls to play a game of getting ready for a concert and then heading to the back of the building to perform.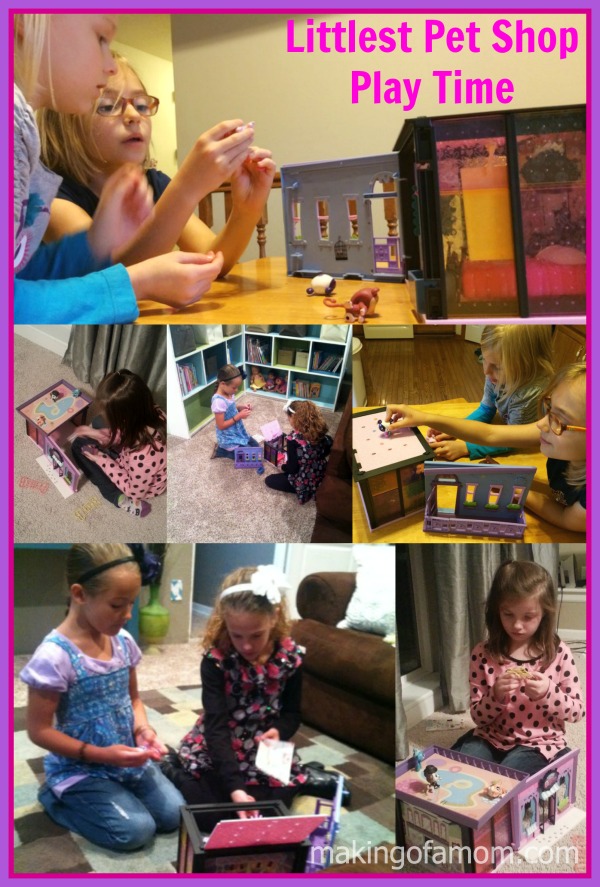 With all of the personalization that is ever-changing since the accessories just pop out and in, the toy is continually new and fun. Being able to completely decoration and customize makes this toy more personal and a lot more fun. This toy will hold the kids interest for a long time. I love that they can step away from electronics or the TV and play all sorts of make-believe games with these Little Pet Shop sets. I love how each of the girls could be who they wanted to be and play how they wanted to play with such a personal toy. I love that each of their likes could shine through.
In addition to all these marvelous things the new sets also have an app that go along with them. Download the Littlest Pet Shop app, scan your pets and you can bring them to life virtually. What a fun way to connect two worlds.  The Littlest Pet Shop website also allows you to customize your own Littlest Pet Shop building.
I love these sets. It's a fun toy to collect and build on. With so many animal character to get and with the switching of heads and bodies the possibilities are endless.
Do your kids love Littlest Pet Shop? Will these great new toys be on your toy shopping list?