Nestled in Candia, New Hampshire is the loveliest family waterpark you've ever seen. Liquid Planet is a wonderful place to bring your children during those toasty New England Summers. A park geared towards families with children under 12, Liquid Planet is something to rave about.
When we first arrived my husband and I took advantage of the 1000 ft zip line. It was such a fun ride. The zip line cruises above the entire park. It was a lovely ride with a wonderful view of the park and its surrounding areas. It was safe and secure (which is saying a lot for this girl who can often have trouble with heights.) This special adventure is only $5 and so worth it!!
I absolutely loved the little kid splash zone. As a mom of three it is nice to have a place small enough to be able to see all of your kids but big enough to keep them entertained for hours. Their splash pad was more than just water sprinklers. They had a see saw- water squirters, waterfalls, baby bouncers, slides, stairs, tunnels and more. I liked that there was a foot or so of water surrounding the whole area so kids to swim around if they wanted to- sometimes they just like to submerge those little bodies. I also liked that I could walk around and stay cool with my feet soaking in the water.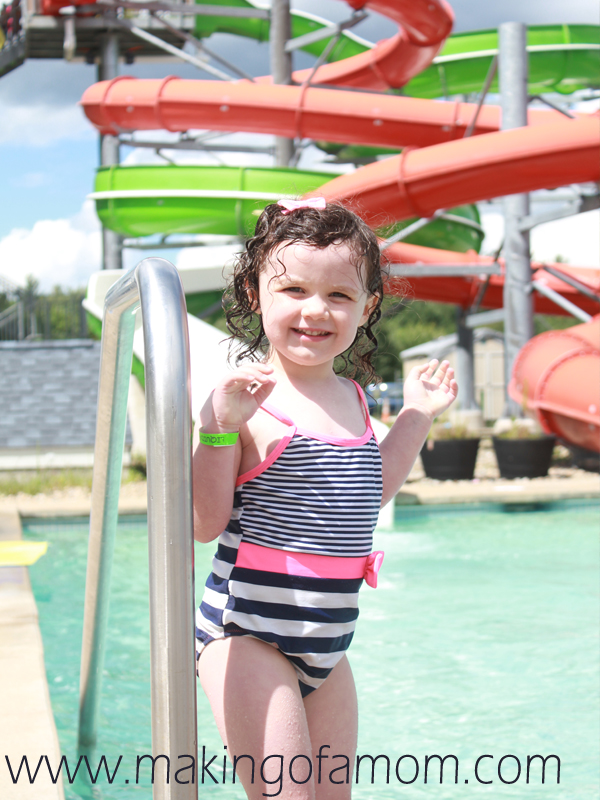 They had one tower of big slides that we all enjoyed. There were two speed slides which our children were too small to ride but I loved that they were able to ride on our laps down one of the other slides. Our 5 year old loved this and couldn't get enough. Our 3 year old went down once but didn't like getting splashed in the face at the bottom (this was my fault because I didn't lift her high enough at the end…oops!) The slides were fast and fun and the lines were not bad at all.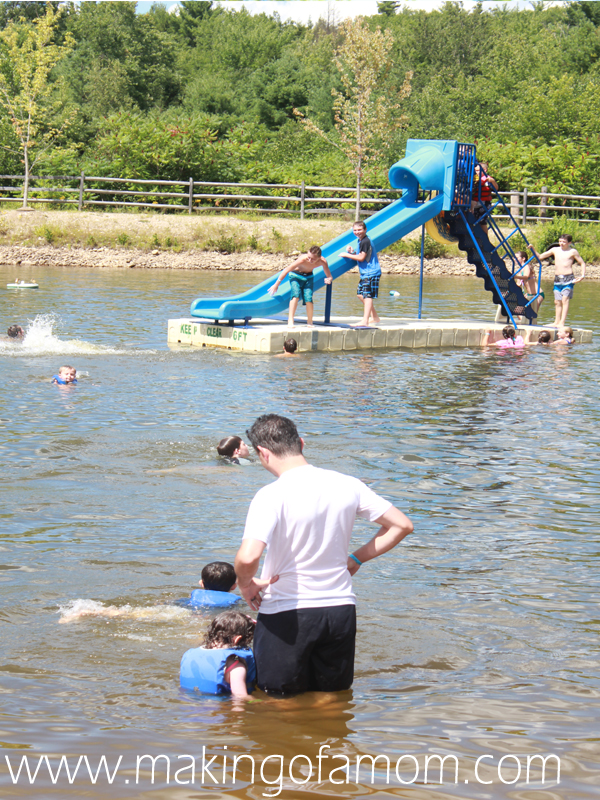 After we had explored these two areas we moved over to the little fresh water lake they had. It was so fun to step into a more "natural" environment without having to move too far away. The lake had a slide and a dock floating in it. We all enjoyed swimming in the lake and my husband and sun enjoyed the slide. It was a little too much for our 3 year old after riding the big slide. I guess she didn't trust our judgement anymore ha!
Liquid planet had cabanas, and umbrella covered tables to stay out of the sun when desired. They had lots of ice cream and snack choices to purchase within the park but also a picnic area outside the park to enjoy any snacks you brought from home. I thought it was really classy of them to offer this option. Most waterparks do not allow you to bring outside food into the park- I am sure this is to avoid glass and other items being a safety issue if they were to get in the pools. As a family park it only makes sense that they would understand that families may have certain dietary restrictions or preferences that they aren't able to consider in their concessions so they offer this other options- A+ in my book! (Although we were having way too much fun to take a break for snacks anyway!)
The entertainment at Liquid Planet was fabulous but I think I was most impressed by the employees. EVERYONE was so nice and helpful. It didn't matter which area we were in- the slides, kids splash zone, the lake or the zip line each person was happy and went out of their way to answer questions or just smile. I realized that this is a big deal- I don't know what they owners of liquid planet do differently than other waterparks but I am sure they treat them well and hire high quality happy people. I was very very impressed.
After a recommendation from a friend to visit liquid planet we were very pleased. We hope to visit them again soon. Liquid Planet is a must in your New England family travel plans. Their quality of service and enjoyment is very impressive.