"I participated in an Ambassador Program on behalf of Mom Central Consulting for Huggies. I received product samples to facilitate my review and to thank me for my participation. All opinions are my own."
When you have babies and small children your life is consumed by diapers. When I first had my youngest I had two kids in diapers. Now I only have one baby in diapers, and he happens to hate diaper changes. Luckily, Huggies has foreseen some issue with traditional diapers and laying down diaper changes and has introduced HUGGIES® Little Movers Slip-On® Diaper. These great new diapers have:
Stretchy sides for an outstanding fit
Tabs for easy removal and disposal
Quick-absorbing layers and a long-lasting core locks in wetness and keeps your baby dry
Stopping guards around the legs and waist help keep wetness in
My baby is squirmy and doesn't love to lay down for a diaper change. In fact, recently my baby started throwing crazy tantrums when we lay him down for a diaper change. I'm not sure what brought on the fits, but it was frustrating and sad. I've been using the HUGGIES® Little Movers Slip-On® Diapers for a week now and instead of having my baby lay down he can stand up on the changing table and I can slip him in and out of the diapers. He likes to hold onto my shoulders and sing or talk right in my face while I easily slip the diapers on and off of him. The diapers do have easy remove tabs on the sides for dirty diapers that are easier to change while laying down.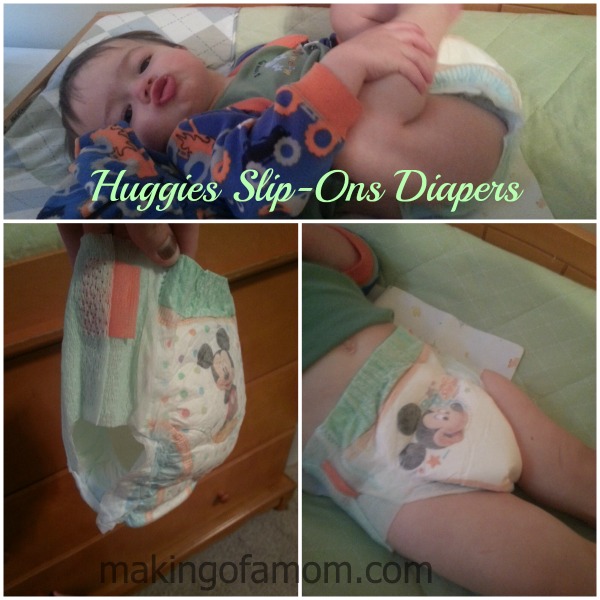 These diapers also make changing a baby that is trying to run away a lot easier. An easy up and down and the job is done! Would you be interested in trying these diapers? Huggies is offering a $1 off coupon on their website.
I can hear some of your concerns from here. How will they fit and really prevent leaks? The diaper has stretchy sides to adjust so it hugs your baby just as your previous diaper would. Also, don't forget about the leak lock around your babies legs. So far I have had great success with these diapers. My baby also really enjoys seeing the Disney characters on the diapers. I let him hold one to look at while I slip the old off and the new on. He loves Mickey!
Do these diapers sound like they are something you would like to try? Do characters on your child's diaper factor into your purchasing decision? I'd love to hear your thoughts about these diapers.