This post was sponsored by P&G as part of an Influencer Activation for Influence Central. I received complimentary products to facilitate my review.
During the school year Saturday's are set aside as "chore day." We wake up, eat breakfast and get all our household chores and cleaning done. By the afternoon we are done and ready to run errands or have a fun family day. Now that it is summer break we have different rules. Among other duties, my kids must also complete one chore during the day. Doing a daily chore means that we are going through more chores so I've had the opportunity to teach my kids how to do new household tasks. Thanks to some awesome
P&G household products at Costco
, I stocked up and it has been really easy to teach my children how to do new household work.
Have you heard the phrase "if your child can work a smartphone they can work a washing machine?" Well I think that's the truth. A smartphone is, after all, a computer, so if your kids can work that they can learn a washing machine, a clothes dryer, even the dishwasher. Thanks to some P&G household products that make it easy, my kids have some new skills.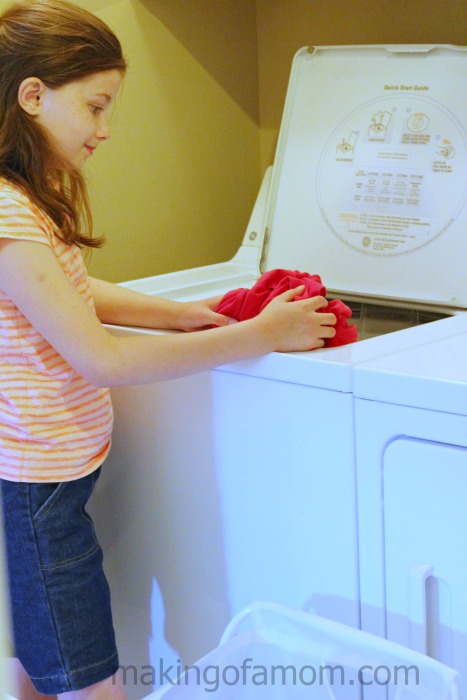 My daughter is 10 and has wanted to start doing her own laundry. I have been teaching her about the different washing machine settings, how to wash darks versus lights, water levels and temperatures. She has been excited to help out doing her laundry and sometimes even her brothers laundry. Since she is new at this I help her with the settings, I throw in the Tide Pod, she throws in the clothes and feels proud of her work. We've also been learning how to fold clothes and towels. So far she just prefers the towels.
I love using the Tide Pods. They are so easy. I used to hate measuring detergent so I love just throwing in a Tide Pod and having the right about of detergent. Tide Pods are packed with 90% cleaning ingredient compared with 15% from the leading bargain brand. *Be sure to keep these away from children as they may be mistaken for candy.
One day while vacuuming the stairs I noticed how dirty our walls are. Problem easily solved with Mr. Clean Magic Eraser. This is so perfect for all my kids but especially my 3 year old. His list of chores is shorter than the rest but cleaning the walls has been really helpful to me and he loves being a big boy helper. Mr. Clean Magic Erasers wipes out dirt and grime with its water­-activated micro scrubbers. This has been a fun task that we work on side by side. He cleans the bottom portion of the walls and I wash the top.
Swiffer Dusters have been one of my favorite cleaning tools for a while. They are so perfect for my kids because they trap and lock dust from any surface. This rocks because my 6 year old can get a little crazy with the duster at times. I'm glad all of his work doesn't go flying off the duster if he starts swinging it around. Dusting is quick and easy for him with the Swiffer dusters. Getting a new duster is as easy as sliding off the old, throwing it away and sliding on a clean new one. The handle even comes in the box with 24 refills. His dusting days will go on and on.
Finally, doing the dishes isn't anyone's favorite task but with Cascade CompleteAction Pacs you can skip the rinsing and just put the dishes in the dishwasher. My kids are a lot more willing to help me when they can take their plates straight from the table to the dish washer without rinsing. I love that I can save water by not rinsing. Once the dishwasher is fully loaded, I add a Cascade Complete Action Pac and let it get to work in the clean cycle.
We have a happy, clean home with everyone working together daily to make it that way. I'm so glad I could get all the P&G products at Costco in bulk so we have a lot of happy cleaning days ahead of us. Seriously, with only 1 chore a day nobody is whining, they get it done and move on to the fun. Win, win!