Okay folks, you know how I feel about creative and simple recipes! I just fell in LOVE with Gyspys Melting Pot! They do an awesome job compiling super cute and totally adorable recipes and crafts that are so simple and so creative! I was so excited to share them with you! I'll post 2 today and 2 more on Thursday.
Gypsys Melting Pot made it with veggies, (Click here to see theirs!) but my kids are MUCH more likely to eat fruit! And our family tradition is a Christmas breakfast, so this is perfect!
Tree- kiwi- I cut my kiwi in half, then use a spoon to scoop out.  Then slice- EASY!! No peeling necessary!
Ornaments- grapes and cherries
Tinsel/garland- mandarin oranges (in juice- not syrup)
Trunk- canned, sliced peaches (juice- not syrup)
Star- canned, sliced pears (juice- not syrup)
(My picture pales in comparison to theirs, but it sure was tasty!)
Penguins  (recipe on fb) Aren't these so cute!!
I used Laughing cow queso fresco and chipotle, but you could used any soft white cheese or even Cream cheese.
Also, GMP uses carrots for the feet and beak, but I just used cheddar instead…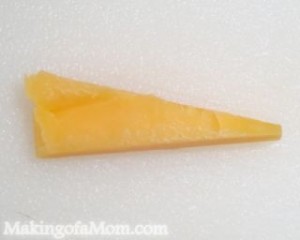 Here is GMP's recipe:
"Ingredients:
1 can of jumbo or large black olives
1 can of small black olives
1/4 to 1/3 pound of soft cheese, such as fromage blanc (I used goat fromage blanc), or cream cheese (what was served to us originally).
1 medium carrot, peeled and sliced into rounds
Frilled Toothpicks
For the feet:
Cut a triangle out of the carrot rounds.The big piece will be the feet.
Take the small piece and cut into small slivers for the beak of the penguin.
Next take a large olive and cut a quarter inch wedge from it.
Now stuff olive with soft cheese and smooth out.
Now take your carrot feet and place the cheese filled olive on top, then place a small olive on top of the large olive.
Use a toothpick to secure. Poke a small hole in the middle of the small olive and then place a carrot beak in the hole."
So cute! Thanks GMP!! You're my new favorite!