I received a free product for review purposes. All opinions are my own.
One of my favorite parts of doing a Holiday Gift Guide is that I get introduced to new toys that my kids love! Spinmaster Toys sent me
Chatsters Gabby doll
. This interactive doll is really cool.
First of all the packaging is amazing. Immediately you want to play with her because of the cool packaging. This premium Chatsters kit included a giant cardboard dollhouse with the Gabby doll and accessories – pink hair extension, glasses, brush/mirror combo, camera stick, bluetooth camera control button and chapstick.
When I give my kids electronic toys I like to get it ready for them and have an understanding of how the toy works so when my kids open them play time can begin immediately. No instruction reading- because I've already done it. I think this makes the experience a lot better. Once I freed Gabby from her packaging and inserted her batteries it was play time.
You can play games, chat and give makeovers with Gabby. Gabby talks (a lot!) and uses her glasses to play with you. On the corners of her glasses are yellow hearts which are really touch sensors. She suggests games and you can pick according to which heart you press. Also, you can give Gabby makeovers by using the touch sensors as well. Her light up lips are also an interactive part of her body.
Her accessories are also helpful for playing with Gabby as she interacts with them. They are equipped with microchips that lets her interact with them and she needs you to help her. Occasionally she gets the hiccups and needs a drink or she has a craving for something sweet and wants a bite of cupcake. The accessories are a really fun way to play with Gabby. She also has a pet dog, Sprinkles,  included which needs to be fed!
This commercial for Chatsters Gabby is too funny not to share. Check out this fun Dad:
There are also a lot of
fun videos about Gabby here
. Since Gabby is so tech savvy she loves to take selfies! When you snap a picture make sure you tag it @Chatsters and #ChatsterSelfie.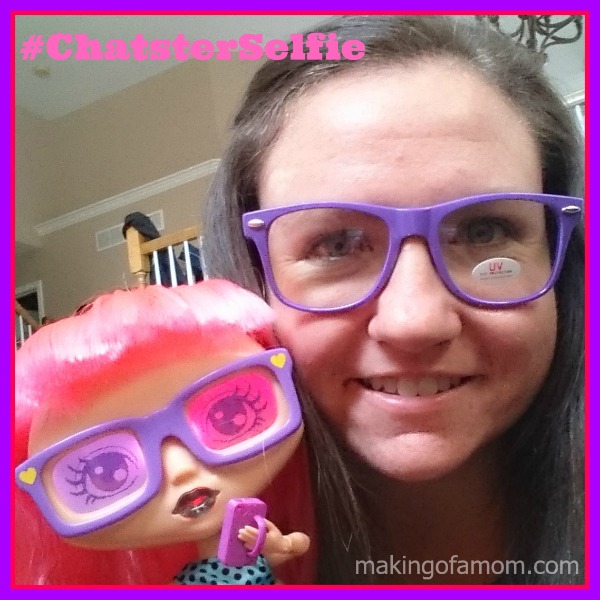 My boys loved playing with Gabby but I'm saving her for my daughter for Christmas. This talking, dancing animated doll is going to be a big hit. My only complaint? Gabby burps – a LOT! But I can forgive that because she is so much fun. There are so many ways to interact with Gabby that she will be a favorite toy for a long time.
You can purchase Gabby at Walmart, Target, Amazon and Toys R Us. Is there a kid in your house that would love Gabby? I'd love to hear what you think of her.