During my trip to Los Angeles for
The BFG premiere
, we also had the opportunity to screen the first episode of Future-Worm! and interview its creator, Ryan Quincy. It was a pretty fun morning I can't wait to share with you.
About Future-Worm!
In this animated comedy adventure, an optimistic 12-year-old named Danny Douglas creates a time machine lunch box through which he meets and befriends Future Worm, a fearless worm from the future (with titanium-enforced abs). Together, the duo embarks on adventures through space and time.
Ater watching the first episode, which will premiere August 1, we were able to sit with Ryan Quincy and talk all things Future-Worm!. After working 14 years on South Park, Ryan wanted to work on a cartoon he could watch with his kids. Future-Worm! was this perfect project.
Last summer there were five Future-Worm! shorts that slightly explored the origin of Future-Worm! and it will continue to get touched on here and there but for the most part you just come into the story, for the stories and the characters. While I found myself wondering where these people came from, it didn't really effect my enjoyment of the story.
One funny part of Future-Worm! is that real-life astrophysicist Neil deGrasse Tyson, who plays himself in the show, shows up every once in a while. He adds some science facts to the mix and some comedy.
Just like the sporadic times that Neil deGrasse Tyson will be on the show, so will a funny cereal that has become a fun part of the show. It won't be on every episode but it will run throughout the series. Captain Cakerz cereal, tastes like birthday cake, and helps them escape trouble in the first episode. I think this is a funny addition because in my house cereal is a big deal. When we buy cereal we buy enough boxes to last for a couple weeks, so we always get weird looks when we put 20+ boxes on cereal on the check out belt. Just like Danny is addicted to Captain Cakerz, my kids would love to have free reign over some sugared cereals out there. I just had to laugh at this "character" who isn't really a character, but definitely is apart of the show.
Ryan was so excited to come over to Disney to develop a show. He said that he's always loved time travel and adventure shows so he was excited to come up with one. His friend had made a comment that when you do a time travel show you have to follow "all the rules." Ryan was like "Do I, though?" And he decided to throw the rules out the window and just have fun with the adventures
One of my favorite characters in the show is Bug. She is an adorable little girl who is a good friend of Danny's. She desperately wants to go on a time travel adventure with him and Future Worm, but unfortunately there is a prophesy that says if she goes it will make the universe implode. She is very frustrated about this. I have hope that one day she'll be able to go with them, but I'll have to keep watching to find out!
To design the characters Ryan started with Future Worm. Then he started combining all of his loves like Mr. T, Chuck Norris, Hulk Hogan, and created his persona. He wanted him to be a great sidekick. It's so funny and it really fit him. Ryan said when he was younger he was on the chubby side, and he had a lot of confidence, so he wanted Danny to also feel confident in himself.
The show is filled with silliness. It perfectly tapped into a child's brain and unleashes all of their weird thoughts and ideas. I think the show will be a big hit amongst kids. It's just fun, it's simple and clean. There's nothing to worry about in letting your kids watch this show. It is definitely meant for kids.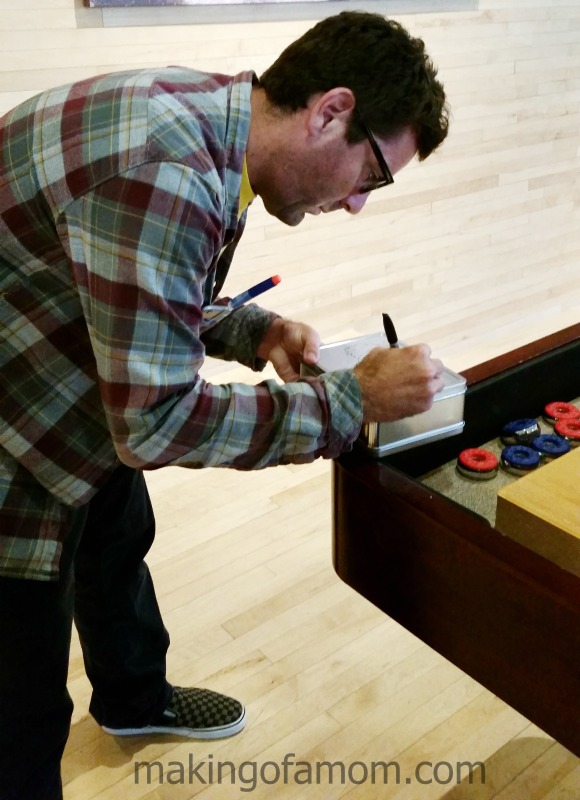 After talking with Ryan we were treated to a darling time travel lunch box of our own. The animators from the show were there to customize our lunch boxes and then Ryan also drew Future Worm on my lunch box and signed it. What a fun souvenir, right?! It was so, so incredible. It was fun to spend the morning with Ryan Quincy and learn more about his show, Future-Worm! coming to Disney XD August 1.