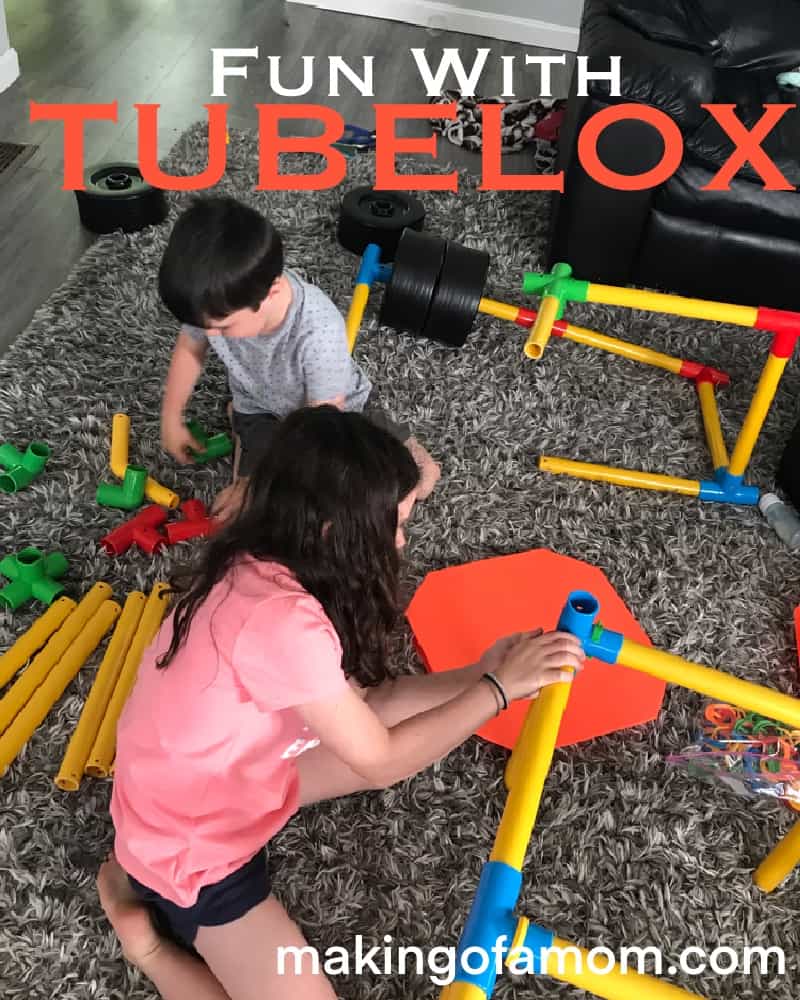 When I saw an advertisement for Tubelox I knew my children would LOVE THEM! I reached out and have partnered with Tubelox to review their deluxe building set! Tubelox is not a new product much to my surprise! It has been around since the 80's (no wonder I like it so much- good things came out of the 80's).
When the box arrived my children were so excited to see what was inside. When we finally opened it they were so excited at the possibilities. As all the pieces were being pulled out I had a small moment of panic, where am I going to store all of these pieces. All of sudden one of my children pulled out this huge sturdy bag that said Tubelox on it! I was so excited (a gift for Moms hidden within). The creators of Tubelox won big with that one! There is nothing quite like a fun toy that comes with its own storage container!
We started building right away. There is a little manual that comes with the set that includes very simple and exact instructions for building a few different designs. Our four year old chose to have us build the scooter. I like how the set had different jobs that different age children can do. My big kids could put pieces together and line up holes while smaller kids can find pieces and attach the small safety clips to secure the pieces together at the end. This allowed for everyone in the family to be able to do something on their own level. Once we were finished he rode around the house so proud of what he had made.
After we enjoyed the scooter for a while we decided to make the helicopter. It was fun to have a totally different and unique toy for the kids to play with. One of my children would push the other two around the house in the helicopter. There was a lot of dramatic play going on and everyone was having a great time.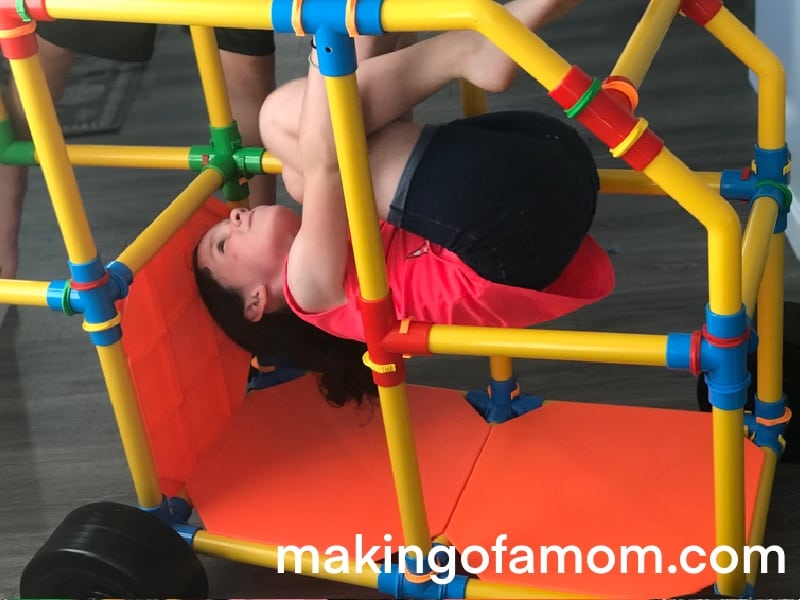 I love that tubelox can be an indoor or outdoor toy. It is made of sturdy, washable plastic that can easily be cleaned. I haven't decided yet if I want it to go outside or stay inside full time so I love that it has the versatility. In addition to it's easy to clean and sturdy design the benefits of this STEM toy are immeasurable. I love that my children can either follow specific instructions or create something totally unique on their own. They haven't quite become bored with the suggested designs and I think it is helping them really get to know the pieces and the product. I know pretty soon they are going to try and create their own little machine and I am very excited to see what they come up with.
While our country is in lockdown and parents are looking for unique activities for their children to participate in, Tubelox is a great answer. My children have loved having fun and working together to create fun vehicles with this wonderful set. Tubelox can create a jungle gym, a desk and chair, a lemonade stand, a cart and so many more different things. The options are endless and as a parent who doesn't love having millions of meaningless toys around the house Tubelox has made me happy to have so many options in one zip up bag of fun!