This summer my family had a mini family reunion in Avon Colorado. We often vacation in Avon because it is a good middle meeting place for many family members. It is also so beautiful and has really nice weather in the summer, not to hot, not too cold. After the reunion, my immediate family was blessed to be able to stay a couple extra days at the Four Seasons Resort in Vail. Earlier in the summer they were having a Facebook promotion, which I entered and ended up winning! We had never stayed at a Four Seasons before so I was excited for the new experience.
It was immediately apparent when we arrived at the hotel that we were out of our league. This was, by far, the nicest hotel we have ever stayed at. With rooms normally selling for $400 a night at the time we were there (probably a lot more in the Winter) this was a beautiful establishment.
When we arrived our room wasn't quite ready, and with Valet parking being the only option we unloaded most of our things and the hotel held it until our room was ready. Right behind the hotel is a road and side-walk and an easy walk to either Lionshead or Vail Village. The hotel also sits along the free bus line between both places so we headed to the bus stop and decided to spend some time in Vail Village. It is so nice that the Four Seasons is so close to the fun touristy areas.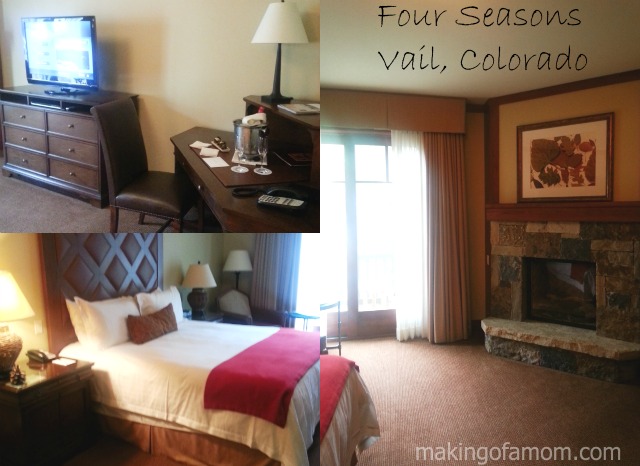 When we finally got into our room it literally took my breath away. It was so beautiful and really big. We stayed in a king suite with a mountain view. The whole thing was gorgeous. The king bed was huge, soft and so comfortable. There was a beautiful stone fireplace in the room, a big TV, dresser, desk and treats left by the hotel.
The bathroom was gorgeous. Tons of marble everywhere, a huge soaking tub, a room for the toilet and a room with the shower. Everything was immaculate!
So you might be wondering where my children slept, after all this was a family vacation and I have 3 kids. Four Seasons Vail has some very fun accommodations for children. the hotel provided tents for the kids! They came with soft blankets and pillows to make it more comfortable for the kids. They loved it!
I wanted to get a video because the pictures don't capture the beauty so here is my instagram video. Please note instagram only gives you 15 seconds so I had to quickly show you the room.
The best part of this amazing suite was the balcony and view. Like I mentioned, I have been to the mountains of Colorado countless times and staring at the mountains never gets old. I loved our furnished balcony that looked out on the resort and the mountains. I enjoyed taking my computer outside and working while breathing in the crisp mountain air and enjoying the beautiful views.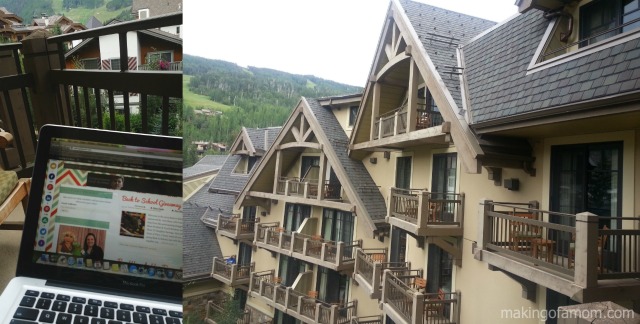 This first experience at such a luxury hotel was a little uncomfortable for us. We didn't know the proper tipping etiquette for the different people around the hotel helping us. We usually park out own car and haul in our own things. This was new. I told my husband for the 3 days we were there that I hope one day that this can be our normal. Right now with young kids it isn't realistic to spend that type of money on a hotel but in the future, I hope this is how we will travel. This definitely took luxury travel to a new level.
If you are interested in checking out the Four Seasons Vail Resort, visit their website or stay up to date on happenings on Facebook – maybe they'll have another contest soon! 😉