Disclaimer: I received the following products for review purposes. No other compensation was received. All opinions and experiences are 100% my own. Your experience may differ. If you click a link in this post, you will be taken to the sponsor's site.
When we find a series of books we love we stick to it! We love Fancy Nancy at our house. She is such a sweet little girl with some high style! My daughter was very excited to learn that The Orb Factory wanted her to throw a Perfectly Posh Fancy Nancy party! We invited several friends over for this fun little craft play date. We set out some fancy snacks.
And set up a table with all of the crafts so everyone could see and get what they needed. The Orb Factory sent me 8 Fancy tiara crafts and 24 jewel by number Fancy Nancy stickers for our little  party.
And then the girls got to work!
They each had a fun time choosing their favorite "Fancy Taira" to work on. There were plenty of stickers to go around, but sometimes the sheet another girl needed was in use, so I started cutting the different colored jewels into their own sheets so that everyone could keep working. It took about an our for the girls to do their tiaras. The Orb Factory also sent some Fancy Nancy jewel by number stickers for each girl and they each ended up taking them home. Of course we needed a group shot with our finished tiaras!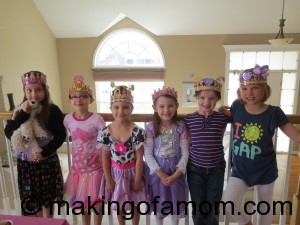 And as an added bonus, my daughter received a "host gift" from The Orb Factory as well. Some fancy sunglasses complete the look don't you think? Do you think she loves The Orb Factory? You bet she does!
You already know that I am a HUGE fan of The Orb Factory! These Fancy Nancy products just complement the already fantastic line up of other crafts and toys. All the girls loved making their tiaras together and the party was a hit! I would totally recommend The Orb Factory for your future party plans. Every activity we have ever received from them has been amazing and tons of fun! You can stay up to date with The Orb Factory by following them on Facebook. Thank you Orb Factory for sponsoring such a fun party!