I received something of value from Feld Entertainment as part of their Insider Program. I was not required to write a positive review. The opinions I have expressed are my own.
Last night my family had the privilege of going to Disney on Ice: 
Passport to Adventure
at the Sprint Center in Kansas City. It was so much fun to continue our tradition of 4 years now.
Every year I walk out of the Sprint center and say "that was the best Disney on Ice yet!" and every year it is true. This year was no exception (though we could have skipped all the Lilo & Stitch stuff). The show was amazing, and the ending with Peter Pan made the who thing magical… but I'll get there.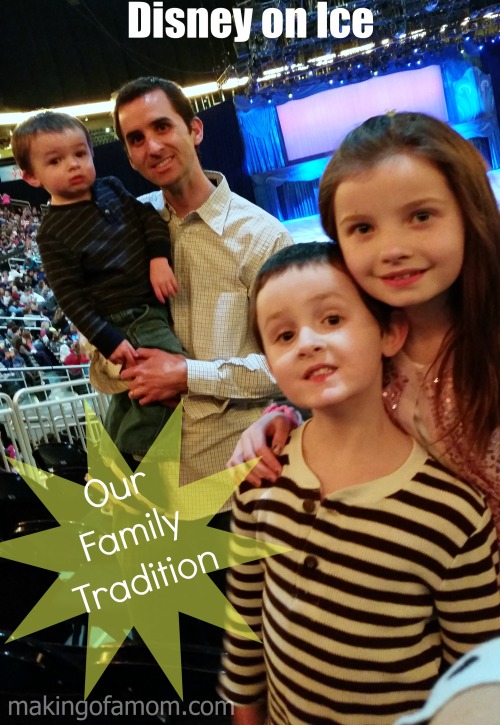 This show was so fun as it featured 4 great Disney movies and your favorite characters. Mickey, Minnie, Donald, Daisy and Goofey open the show talking about the adventure they are going to go on. Then we proceed through their "trip" by seeing a performance from difference Disney movies. It is a cute idea.
The show started with Lion King. My kids were so excited to see Pumba and Timon who are larger than life on the ice! They went through several of our favorite songs from the movie and it was really cute.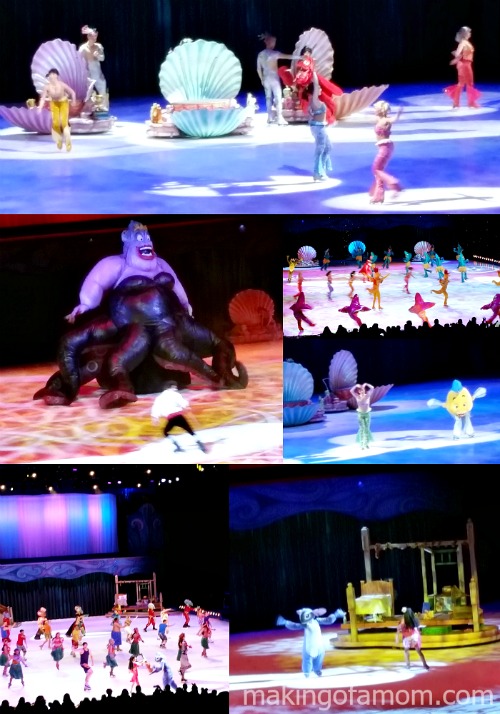 Next up entered our favorite mermaid and crab! The Little Mermaid part of the show was so pretty with beautiful costumes for the mermaids and the sea life in "Under the Sea". It was very upbeat and fun. The kids loved it!
Lilo and Stitch followed and that was a tad boring and seemed to last a long time. My kids aren't familiar with that movie and there wasn't much music. We didn't care for that section, but what followed more than made up for it and was worth the cost of admission alone!
The Peter Pan part of the show was amazing. It was thorough and covered from being in the Darling household through the story. The costumes, scenery, and special effects were unbelievable. I loved that Peter Pan, TinkerBell, Wendy, Michael and John flew through the air to Neverland and then home again. I loved the giant crocodile that ate Captain Hook. The whole sequence was full of fun, dancing and adventure! This Peter Pan segment was by far amazing and made the whole night incredible.
Disney on Ice is playing at the Sprint Center in Kansas City from March 4-8. You can Click here to purchase tickets to a Disney On Ice show near you online or go directly to the box office! Don't miss this show Kansas City!