Disclosure: I received a free product to sample for review purposes. All experiences and opinions are my own. Yours may differ.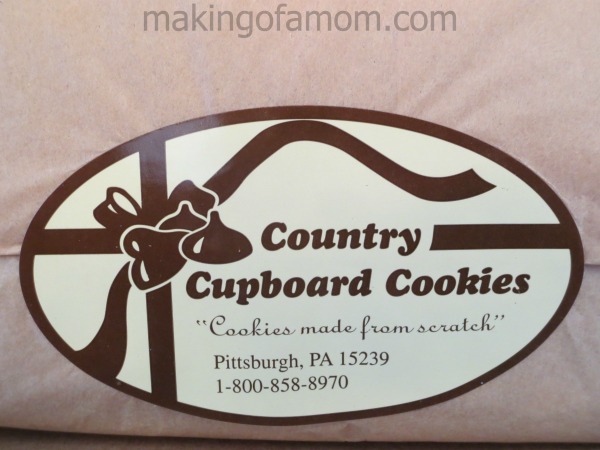 It's always a good idea to give cookies – at least in my opinion. I think food is the perfect gift because it's shareable and people bond over food. As the holidays approach and you start to think of gift ideas there are some people who you will think already "have everything" but they don't have a box of gourmet cookies! You might even have some people on your gift list that are really hard to shop for. Well who doesn't love some cookies? At Country Cupboard Cookies these delicious cookies "made from scratch" would be the perfect gift. They ship them nationwide.
I received a Halloween gift set of cookies and so it was beautifully packaged to match:
You can tell just from the package with the love and care that goes into making it look so pretty that the contents are going to be amazing! When I opened up the package I was pleasantly surprised to find 14 delicious looking cookies! We received:
2 Iced Sugar Cookies
2 Peanut Butter Chocolate Chip
2 Cranberry White Chocolate – MY FAV!!!
2 Super Chocolate Chunk
2 White Chocolate Macadamia Nut
2 Snickerdoodle
2 Double Chocolate Fudge –  "I could eat a dozen of these without stopping" – My Mom
You can bet everyone was anxious to dig in! For "research purposes" I made sure I got a bite of all the cookies! 🙂 The first and biggest compliment I have toward Country Cupboard cookies is that they were SOFT! I love me some soft cookies, but with cookies that have traveled in the mail you never know if they are going to be soft or not. Country Cupboard Cookies takes care to make sure your cookies are delivered fresh and soft!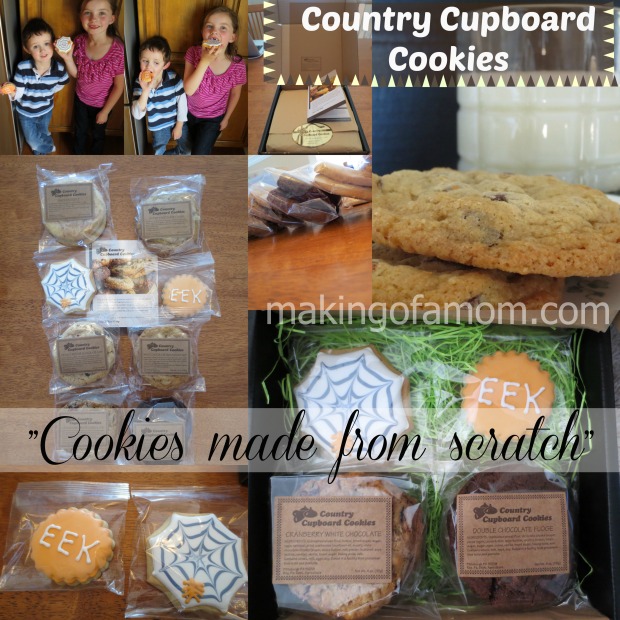 These cookies are baked from scratch with no preservatives. This means if you are going to enjoy the cookies within a couple days of receiving them, you can freeze them to have later. At our house these cookies didn't last 2 days! In my defense, we do have some company that we shared the cookies with.
My favorite cookie out of the bunch we received was the Cranberry White Chocolate. These cookies had whole dried cranberries along with some large white chocolate chunks. I loved the tanginess of the cranberries paired with the sweet of the white chocolate. The cook base tasted a bit like a spice muffin to my tastebuds so the whole package was filled with my favorites and one of the best cookies I have had in my life!
Take a look around the Country Cupboard Cookie site and see their large variety of cookies. They also sell Brownies, Shortbreads and have  Monthly Featured Cookies. You can browse their selection by occasion, price point or flavor.