Disclosure: I received a free product sample for review purposes. All experiences and opinions are my own. Yours may differ.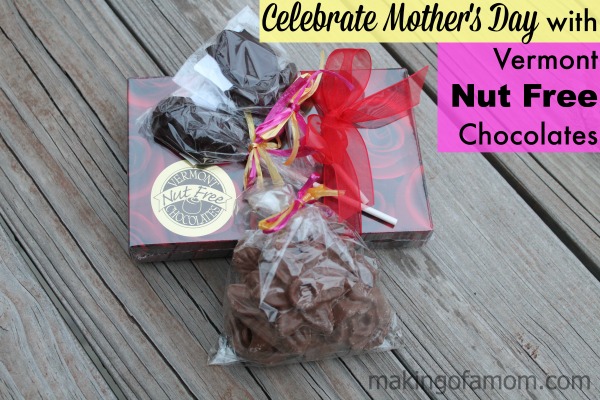 Celebrate Mother's Day with some completely nut free chocolate! For all the Mother's and even family members suffering from some sort of nut allergy, rest easy now knowing about Vermont Nut Free Chocolates. I know that it can be difficult find food gifts when these sort of allergies are present in your home.
At our house we don't suffer from any food allergies so I don't have much experience with it. My daughter did have a girl in her class allergic to peanuts so taking snacks and treats to school was always a trial trying to find nut free products. So many food items are made in the same factory as other nut products so finding completely nut free food is hard. Vermont Nut Free Chocolates offers you the peace of mind that everything available on their website is completely nut free and safe to consume. You can now get all the chocolate, fudge, trail mix and other fun treats completely nut free and feel good about it!
In celebration of Mother's Day Vermont Nut Free Chocolates sent me a fun little sample pack of their chocolates. I received 2 dark chocolate pops, a bag full of flowers folded milk chocolate and this lovely box of Caramel Rose Hearts. All of the chocolate was very good, smooth and creamy. What a perfect gift at this special time of year. Please browse the Vermont Nut Free Chocolates site and see all the wonderful items they have for you.