I received media passes to attend this shows so I could share my opinion of it with you.

When I saw that the Cirque was on the schedule for
Starlight Theatre
 I was so excited. Last year I was able to see the Cirque show called
Verakai
and it was pretty amazing so I expected this to be equally fantastic.
Director Jeannot Painchaud presents a show crackling with daring and modernity. Cirque Éloize's ninth creation, iD is a blend of circus acts and urban dance. The scene is set in the heart of a city, in a public space where people seek refuge, shed their anonymity, forge an identity and express individuality. Fifteen performers from 13 disciplines create iD's entertaining and resolutely urban universe.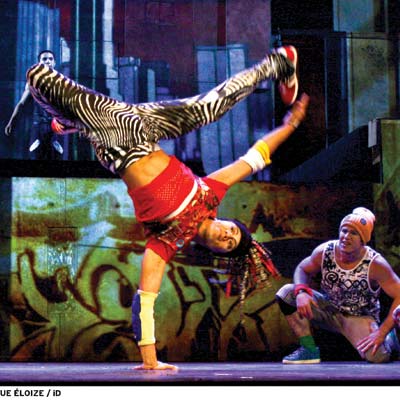 The show is set in a city and at times what seems like a dark back alley. The show has some really unique acts. When one of the performers started juggling I wondered how they would make it different from any other juggling act I've seen. They pulled it off. The whole presentation of each act was so unique that it definitely help the audiences attention.
Between the skilled bicyclist and his tricks and the impressive trampoline act there were continual gasps from the audience. The whole show was so impressive with such a talented cast.
You can purchase tickets and see Cirque Eloize iD at the Starlight Theatre in Kansas City through September 13. This is an amazing show appropriate for the whole family.