The Titanic Attraction in Branson Missouri has some fun events I want to share with you.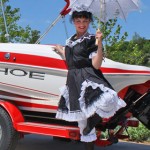 First on June 15 -16 is our Titanic Branson Father's Day Bass Pro Boat Show. This is a Free Event! Titanic's Father's Day BASS PRO Boat Show is Saturday, June 15 and Sunday, June 16th from 9am – 6pm. Back by Popular Demand! We've invited Bass Pro Shops' Tracker Boat Center to drop anchor in our parking lot and show off some of the newest, fastest, hottest models on today's market. This exclusive Father's Day event is free and open to the public. Perfect gift for Dad!
I'm so excited because this is the weekend we will be attending the Titanic Attraction!
The second event is September 10 for:
9am Toddlers at Titanic Event – (Admission cost $8.50
and includes tour, book, and 1st class maid will read a Titanic story to your Toddlers.
For more information, please contact The Titanic Attraction Branson at 800-381-7670.
Stay tuned for my review on the Titanic Attraction in the middle of June. It looks like it will be very interesting and I can't wait to share with you!