Disclosure: I received a complimentary meal for review purposes. All experiences and opinions are my own. Yours may differ.
Knowing that I would be attending the Cirque du Soleil show in Kansas City this week, I decided to look at the restaurant options in Power & Light. My friend Kristen and I wanted to go out to eat before the show so I wanted something really close to the Sprint Center. You can't get closer than across the street and so I emailed Johnny's Tavern about being featured on my site. They were excited to host us and we were excited to have our first visit to Johnny's Tavern.
Johnny's Tavern has nine locations across the KC Metro. This location in Power & Light is the first to cross the Missouri border and I'm so glad they did! While doing research on restaurants I saw Johnny's Tavern but was a little hesitant to look at the site. I don't drink and name clearly gives it away that it's a bar so I didn't know if they could offer me something I wanted. I decided to peak at the menu and was very pleasantly surprised. The first thing I noticed was a kids menu, so obviously the restaurant was family friendly. I then browsed the adult selections and immediately found several things I wanted to try. Just this simple glance sparked my desire to eat there!
Johnny's Tavern is a sports bar. They boast 56 TV's and dare you to sit anywhere in the restaurant where a TV isn't visible. There are even personal TV's in the booths (though booth seating is limited). Even though there are so many TV's the volume in the restaurant isn't loud. It was very nice. We visited on a Wednesday evening so the crowd was light but picked up as the night when on.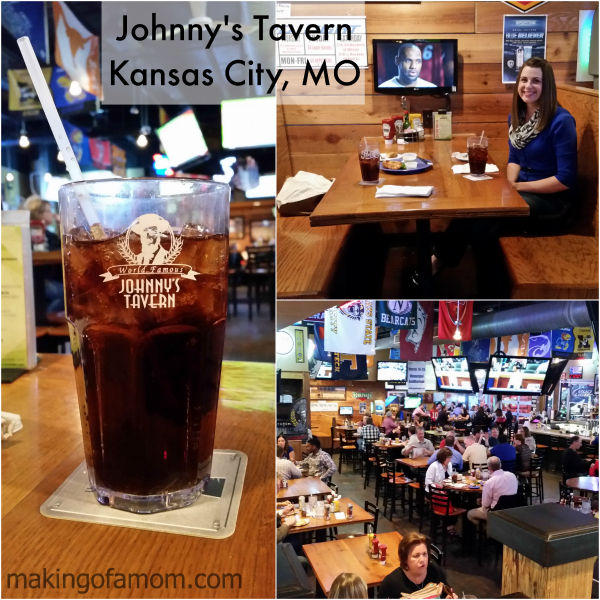 After browsing the appetizers we finally decided on getting the "Skins" which are loaded potato skins with cheese, scallions and bacon served with "Johnny's dill dip". Kristen and I both aren't fans of dill so we asked for an additional container of ranch. To be a good restaurant reviewer I tried the dill dip and didn't end up needing the ranch. It was so good!!!! (Yes, did you see those 4 exclamation points?) The dill taste wasn't very strong and the dip was smooth and creamy. So good. Get the skins, eat the dill dip, and be happy!
Kristen and I had a hard time deciding what to get. The menu is filled with amazing sounding options! With help from our very knowledgeable and friendly waitress Kristen decided on the grilled chicken tacos and I got the 80 Acre Melt.
How good does that look? If your mouth isn't watering right now, something is wrong! Johnny's Tacos are available in breaded fish, grilled steak, grilled chicken, grilled shrimp and grilled Tilapia. Included with the meat of your choice is cheese, shredded cabbage and pico served with jalapeño cilantro ranch. Kristen said it was amazing. In fact she poured her contain of ranch on two of the tacos and got a second container for her third taco. She was so full but loved every single bite!
I saved the best for last! 🙂
Oh baby! Look at that! Meet the 80 Acre Melt. This beautiful burger features smokey cheese sauce, candied bacon (READ THAT AGAIN!), crispy red onion strips and BBQ sauce on a pretzel bun. I loved so many things about this burger let's break it down! I loved that the BBQ sauce was on the side. I'm not a huge fan of BBQ sauce and I'm kind of picky about it so I loved that it was on the side so I could apply as much or as little as I wanted. I didn't ask for it like that, it just came that way. I really liked the pretzel bun. I've never had a pretzel bun even though they are really popular right now and it was really good. Nice and soft and tasty. Onion strips are some of my favorite things in the world. I had never tried red onion strips before and they were good. I couldn't really tell a difference from the traditional white onion strips probably because of the tasty cheese sauce and the CANDIED BACON! Yes, I know, I'm obsessed but, really? Candied bacon! Yes please, a million times over. The words good, great, fantastic, amazing, scrumptious… none of them do this burger justice. This is literally the best burger I have ever had in my LIFE! Ok, I'm young at 29 (cough, cough) but still. SO.GOOD. I'm taking my husband to Johnny's Tavern this weekend so I can have this burger again. Those of you that don't like red meat, no worries. It comes in the chicken variety also! Sandwiches and burgers comes with one side so I chose the fry/rings combo.  I'm picky about onion rings as well, and Johnny's Taverns were pretty good.
Top 3 Things I Love about Johnny's Tavern
PRICE! For being in the middle of the action, the prices are amazing. Most things are under $10 so eating at  Johnny's Tavern can fit in most budgets!
FOOD! The food is amazing. I do have a limited experience and was so full I couldn't even try dessert, but all three things we ate hit it out of the park! I'm confident the rest of the food follows suit.
LOCATION! Anytime you are heading to the Sprint Center for a concert or event, schedule in a little extra time for Johnny's Tavern, right across the street. Heading for a night out on the town? Power & Light is the place to go. Johnny's Tavern is there! Don't forget the other 8 locations scattered on the Kansas side!
Have you been to Johnny's Tavern before? Tell me about it in the comments below!
Here are some of my other favorite Kansas City Businesses.
Follow Stefanie Cornwall's board Kansas City Businesses on Pinterest.